It is generally accepted that the way of unusual versions of video cards on the market takes a lot of time. ZOTAC company showed on Computex 2017 a compact version of the GeForce GTX 1080 with the eloquent name Mini, but the description of the novelty can now be found on the manufacturer's website .  
But nothing now prevents us from examining the characteristics of the curious representative of the GeForce GTX 1080 series. The video card does not exceed 211 mm in length, 125 mm in width, and the video card is connected to a power supply with a recommended power of 500 watts through one eight-pin connector.  The energy consumption level does not exceed 180 W.  The video card is equipped with 8 GB of GDDR5X memory, runs at 1620/1759/10000 MHz, has 2560 CUDA cores.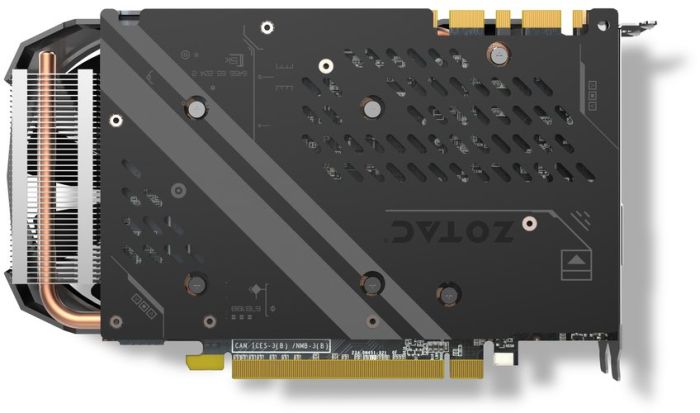 The cooling system uses two different-sized fans (90 mm and 100 mm), five heat pipes with a diameter of 6 mm and an aluminum radiator.  The fans are white, it works continuously.  Black-and-gray range of other design elements is designed to please all the supporters of color harmony, which irritated the passion of ZOTAC yellow.
On the rear panel you can find three outputs DisplayPort 1.4, one HDMI 2.0b and one DVI.  The video card supports simultaneous work with four monitors and is compatible with popular helmets of virtual reality.  A pair of such video cards can be combined into a SLI bundle using a special bridge with high bandwidth, like all older graphics solutions of the Pascal generation.  In German retail, such a video card appears alongside the price tag of 949 euros, but it will certainly decrease as the market becomes saturated.


Related Products :