GamersNexus made one of the first attempts to improve the overclocking results of Radeon Vega Frontier Edition due to the modification of the standard cooling system of this professional graphics adapter.  It is clear that at such extremes, the authors of the experiment went for the lack of a game video card Radeon RX Vega, which until the announcement remains a little over two weeks.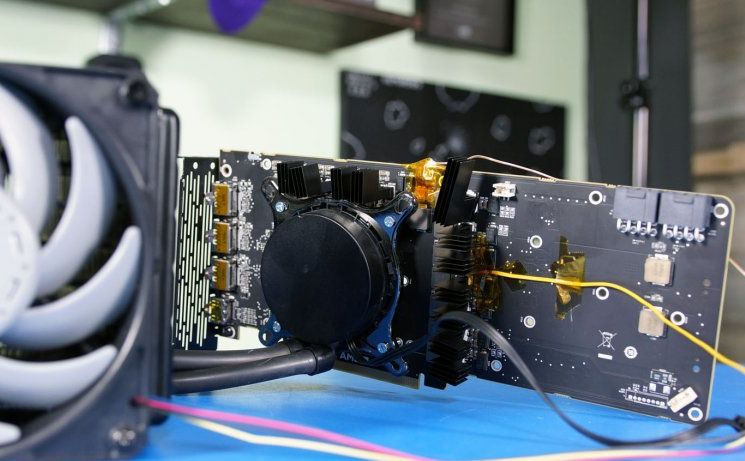 Composition nuances force AMD to use mounting holes for cooling systems that fit into the corners of the square with a side of 64 mm.  And although the continuity with Radeon R9 Fury X (Fiji) is preserved, life does not make it easier for a lover of similar experiments: it is very difficult to select an alternative cooling system for Vega.  Colleagues, for example, were forced to adapt the processor-free cooling system Asetek 570LC, which had new holes in its mounts with power tools and drills.

To overclock the video card after such modifications it was possible up to 1700/1100 MHz, the radiators were installed on the power elements.  By the way, providing them with additional blowing was not so important, as shown by further tests - on the temperature it influenced little.  The authors of the experiment concluded that the main stopper for overclocking is the power system capabilities - only one graphics processor in the limiting mode is able to consume up to 400 W (not the entire system, not the entire graphics card, namely the graphics processor).  This load increases the current strength on the 12 V line up to 33 A, and this is already a serious problem for the power supply.  Colleagues expect to find "workarounds" for further advancement in overclocking, it is impossible to change anything through the BIOS.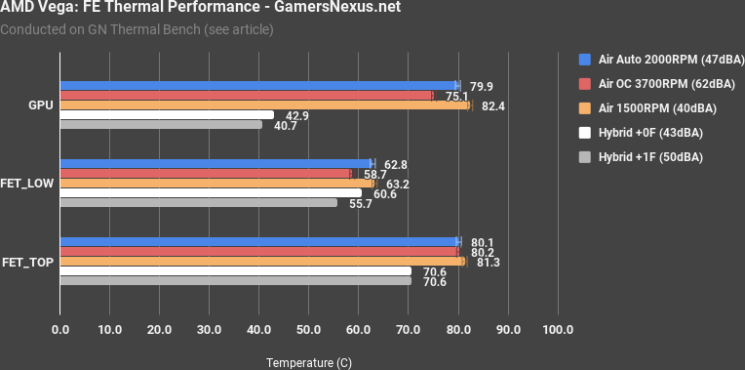 The last graph shows that efforts to improve the cooling of Radeon Vega Frontier Edition power elements do not justify themselves, because everything is normal there.  The main advantage of improving the GPU cooling system is a decrease in the noise level during overclocking, although there is some progress in lowering the temperature.


Related Products :