It is well known that E Ink display not very good with the transfer of the colors on  electrophoretic  .  The color gamut in color E Ink stuck somewhere at the level of 10% NTSC space.  Yes, and refresh rate of electrophoretic displays t was at the level of 10-15 frames per second, and stayed there.  In addition to the image change requires significant currents and relatively high voltage.  From all  this can be available a new type of "electronic paper", which suggested that a group of scientists from Chalmers University of Technology (Chalmers University of Technology, CUT) .
The first experiments with prototypes of development have shown that consumption of the new screens will be much smaller than in the case of E Ink screens with much better color transmission.  At the same time the project participants recognize that the development is in its early stages and has yet to be a lot of work to do this fairy tale come true.
In general terms, the new display is similar to the reflective screen.   It can operate only if bright light is incident on the display.  But first, let's see what the development.  It is said that the thickness of the screen assembly may be very small - it is as a foil.  The final screen will be determined by the thickness of the thickness of the protective coating, which does not exclude such a thickness of the screen, that will not prevent it to curl up into a tube.
The bottom layer of the display is made of silver foil thickness of 150 nm.  Atop the silver suffered separation layer of alumina.  This core layer  is responsible for the transfer of color.  Depending on the thickness of the film layer, it can reflect any color, but the three primary colors are selected for display, ease of operation and three substrate thickness: 48 nm - the reflection of the red, 93 nm - 83 nm, and green - blue.  On top of this spacer layer suffered last layer - a layer of gold of 20 nm thick with regular holes.  Step holes - 150 nm.  Reflect (emit) light aluminum substrate is through these holes.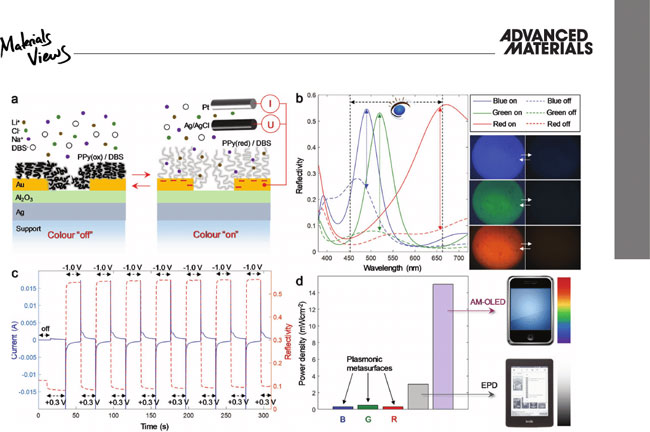 During the formation of bright and pure spectral response will be in charge interference and the effect of surface plasmon resonance, when electrons interact with falling on them photons (light) and intense light emission occurs at the site of interaction.  In order to control each pixel, thus opening up a special polymer based on polypyrrole (polypyrrole).  Depending on the applied voltage, the liquid polymer can transmit light, and then the "pixel" will reflect it - glow specified color or absorb light and "pixel" will remain black.  To control the transparency of the polymer quite 1 volt.  The degree of transparency is that reflects 90% of incident light.  The display requires a constant power supply, unlike the screens E Ink, but it is very small - 0.5 mW per square cm  In addition, the polymer may remain active from 5 to 10 seconds, increasing the regeneration time.  At the same time the speed of switching the state of the pixel is very high, and the possible location of the pixel density is such that one inch can fit 10,000 pixels.  Fantastic!

Select Rating :

A new type of color electronic paper displays for large format
Add Comment ( 1 )
A NEW TYPE OF COLOR ELECTRONIC PAPER DISPLAYS FOR LARGE FORMAT