AMD published new details about Radeon Pro Duo.
In general, there is nothing new .  But AMD partners have tried and began to send out promotional materials dedicated to the exit Radeon Pro Duo - the fastest graphics card in the gaming world by AMD itself.  By the way, for such a conclusion the company came as a result of comparing the performance of three cards in 3DMark Fire Strike: Radeon R9 295X2, GeForce GTX Titan Z directly Radeon Pro Duo.  In a system with 16 GB of memory and central processor Core i7-5960X is a new dual-processor flagship AMD were stronger, scored 20 150 points at a resolution of 1080p, 11,466 points at a resolution of 1440p, and 6211 points in the resolution of 2160p.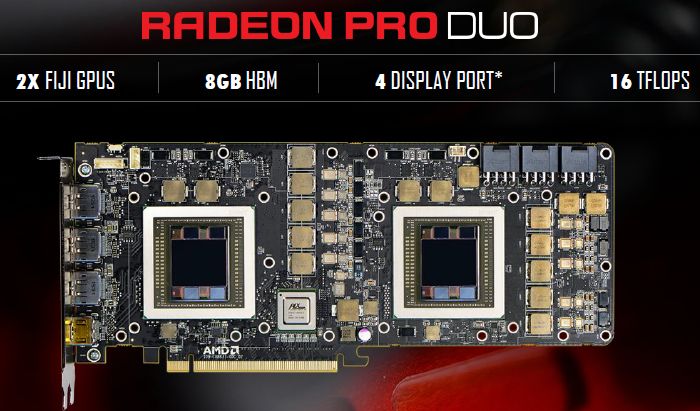 The presentation, which is preserved intact since the GDC 2016, allows us to understand why AMD refers to the presence of four DisplayPort outputs with the obvious presence on the rear panel HDMI output video card.  As explained by a tiny footnote, the fourth port is available when using an adapter from HDMI to DisplayPort.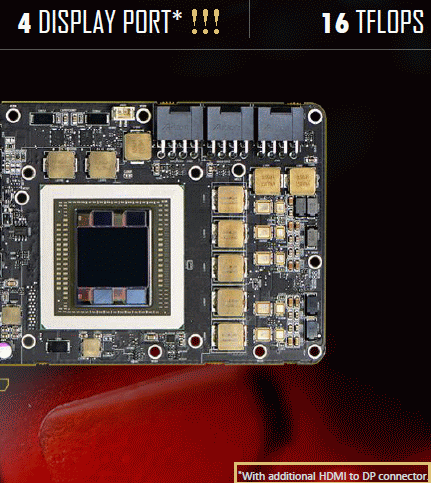 The sale Radeon Pro Duo arrives today for a suggested price of $ 1,499, with availability at retail will be limited.  In addition, the card will only exist in the reference design.
The length of the tubes, for example, is 545 mm.  It is this parameter determines how far can be attributed from the video card heatsink standard cooling system.  video length does not exceed 278 mm.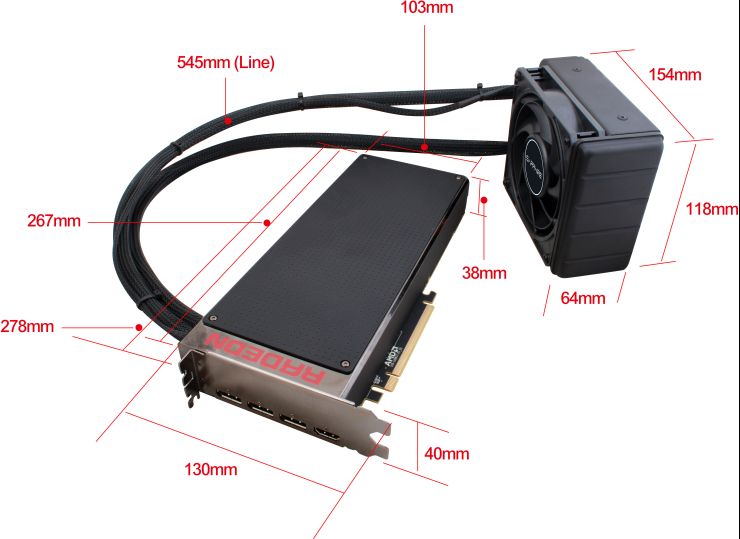 According to Sapphire, the power system Radeon Pro Duo has 15 phases.  To work with the graphics card is recommended power supply 800 W, which allows the use of three eight-pin connectors.  A pair of cards can be combined in CrossFire mode without any additional interface cables.

 

Select Rating :

Radeon Pro Duo shed light on the mystery of the four DisplayPort outputs
Add Comment ( 1 )
RADEON PRO DUO SHED LIGHT ON THE MYSTERY OF THE FOUR DISPLAYPORT OUTPUTS