In 2012, Sony and Panasonic companies presented media and drives for long-term archival storage of data on optical media - Optical Disc Archive.  The development is a unified cartridge with 12 discs (generation Blu-Ray), a desktop drive with a USB 3.0 interface .  The first generation of drives would have a capacity of 300 GB to 1.5 TB, and promises to keep the data up to 50 years.  Deliveries of the first devices began in 2013.  In 2015, Sony offered the use of such storage systems for archiving the so-called "cold data" - information that is rarely requested, but that can not be removed

Recently the company announced the second generation of Optical Disc Archive - new drives and new cartridges, which increased the capacity to 3.3 terabytes.  Also it increased the storage of data on the media - right up to 100 years.  As can be understood from the support scheme, the new double-sided disc with three recording layers on each side.  To read (discs in the cartridge - a write-once) each disc from the pack is removed and with it the drive is operating separately.
More interestingly, the company changed the design of the optical drive.  The new drive (as in a desktop and in library design) contains four optical heads, each of which is now included two laser heads.  Each operates independently of the heads.  Writing and reading can be done simultaneously.  Also, at the same time carried out the recording and recording checks.
Eight-channel access to information on the disk has led to an increase in the speed of the system: read speed up to 250MB / s and write speed - up to 125 MB / s.  For optical drives - this is an impressive result.  Now 4K video quality can be read without delay with such carriers.  
Supply drives Optical Disc Archive   second generation will begin this summer.  In the desktop version with a USB interface model will be offered ODS-D280U drives rackmount interface fiber channel - ODS-D280F and cartridges - ODC3300R.  The approximate cost of the drives is 10 000 euros, cartridges - 150 euros.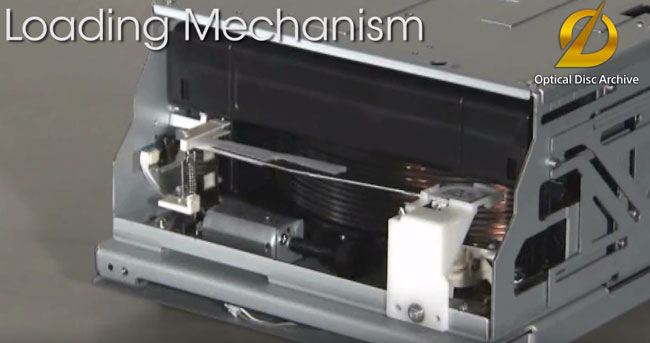 Select Rating :

Sony introduced the second generation of optical media for archive