Today we have already mentioned that the electric vehicles Tesla lots use the "on-board supercomputer" on the base of NVIDIA components related to the DRIVE PX 2 series. As the Tesla head admitted, it can be easily replaced if necessary. By the way, according to NVIDIA representatives  , "full autopilot" is still possible only when using at least two "supercomputers" DRIVE PX 2 in one vehicle.  With the power of a dedicated processor, such tasks will be solved only after the appearance of the Xavier generation on the market of NVIDIA products, but they are not yet delivered to customers en masse.
One of the members of Tesla Motors Club community, using the example of its own electric vehicle, Tesla Model S, has checked which components are the "on-board supercomputer" of this vehicle.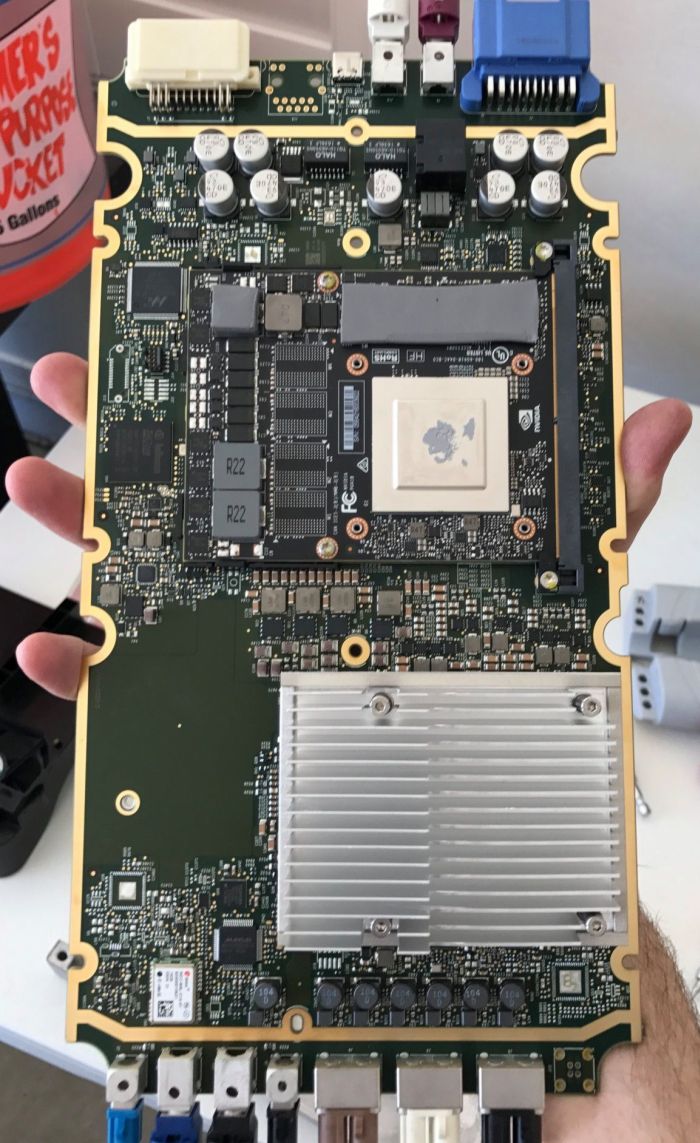 This module is attached under the front panel just above the glove box, opposite the front passenger seat.  It is quite easy to remove the "on-board supercomputer", and in this to some extent calms those who hope for the possibility of its modernization.
The onboard computer is located in an aluminum case, equipped with windows for the output of radiators, which are installed on the graphics processor and on  Tegra processor, respectively.  In other words, DRIVE PX 2 in the version for electric vehicles Tesla has one discrete graphics processor, and one mobile processor Tegra.  This is a medium-sized version of the computer, since in the maximum configuration DRIVE PX 2 combines two discrete graphics processors and two mobile processors Tegra.  Two fans are attached to the plastic casing of the cooling system.
On the reverse side, a metal screen is attached to the printed circuit board, similar to those used in laptops.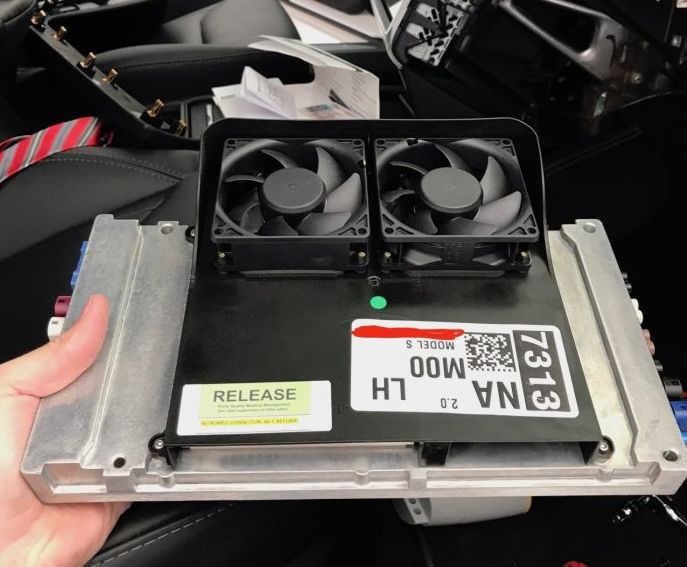 The Pascal generation GP106 GPU in this computer is located on a daughter board reminiscent of MXM modules for laptops.  In the neighborhood there are GDDR5 memory chips and mounting positions under them.  Most likely, the memory chips are arranged on both sides of the PCB, or in this version the GP106 is only adjacent to half the memory size inherent in older solutions.  The MXM module can  be easily replaced with a more perfect one - at least the carmaker will definitely like this feature.
Such "on-board supercomputers" electric vehicles Tesla are supplied from the autumn of last year.  

Select Rating :

GP106 GPU In the on-board supercomputer of Tesla electric vehicle
Add Comment ( 1 )
GP106 GPU IN THE ON-BOARD SUPERCOMPUTER OF TESLA ELECTRIC VEHICLE