Microsoft began accepting applications for the updated Xbox One X game console (formerly the Scorpio project).  After the announcement two months ago and the conference Hot Chips developers are willing to share details about the novelty.  In particular, one of the designers of SoC for Xbox One X - Scorpio Engine - said that the solution is manufactured using the process technology 16FF + company TSMC and consists of 7 billion transistors.  The area of the resulting crystal Scorpio Engine is one of the largest for this technological process TSMC and is 359 mm2.  A significant part of the crystal, as seen in the picture below, is given to the graphic core of 40 execution units with a total number of 2560 pipelines.
The right side of the crystal sheltered two quad-core modules on AMD Jaguar cores.  Against the backdrop of the GPU, the computing cores are just pale.  The operating frequency of the processing cores is raised to 2.3 GHz.  The maximum frequency of graphic pipelines reaches 1172 MHz.  A large block of memory, and developers have stopped on memory type GDDR5 with a throughput of 6.8 GHz, greatly simplifies the work of programmers.  This also allows you to emulate the previously used eSRAM built-in memory, which is necessary for compatibility with games for previous consoles, when the eSRAM unit was part of the console's processor.  In the Scorpio Engine, as already reported, the eSRAM block is missing.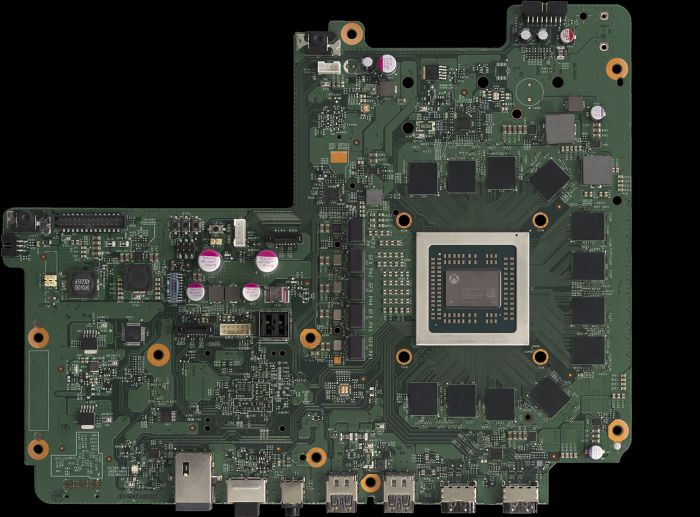 Despite the considerable bandwidth of the new type of HBM2 memory, the developers refused to use it in the new console.  First, the memory of HBM2 is still in short supply.  Secondly, it is quite expensive, which follows from the "first". Thirdly, the HBM2 memory  is characterized by developers as inflexible.  The bandwidth of the HBM2 memory can not be controlled (in any case, within the limits required by the designers).  This would force the closure of this characteristic and limit other possibilities.
 

In conclusion, it remains to say that the delivery of the new Microsoft console, aimed at games in 4K resolution, will begin on November 7.  The issue price in the US will be $ 500 .

Select Rating :

HBM2 was too expensive and inflexible for use in the Microsoft Xbox One X game console
Add Comment ( 1 )
HBM2 WAS TOO EXPENSIVE AND INFLEXIBLE FOR USE IN THE MICROSOFT XBOX ONE X GAME CONSOLE