AMD Company on Tuesday not only introduced the new Radeon RX 500 series video cards, but also immediately began selling them, in contrast to the predecessors 400 series.  And the partners were able to offer customers their own versions of video cards, which was also not the case with its predecessors.
PowerColor also introduced six of its own versions of the Radeon RX 570 and Radeon RX 580 graphics cards .  The older model Radeon RX 580 with the prefix Golden Sample in the name got the factory overclocking of the graphics processor up to 1425 MHz.  There are also less productive modifications with frequencies of 1380 and 1350 MHz.   As for the Radeon RX 570, PowerColor introduced two versions with 4 GB of memory, the GPU frequency of which is 1320 and 1250 MHz.
MSI always tries to offer as much as possible its own versions of graphics adapters, but this time it surpassed itself by presenting nineteen versions of Radeon RX 570 and Radeon RX 580 video cards. Most of the new line consists of video cards Gaming series equipped with the TwinFrozr VI cooling system .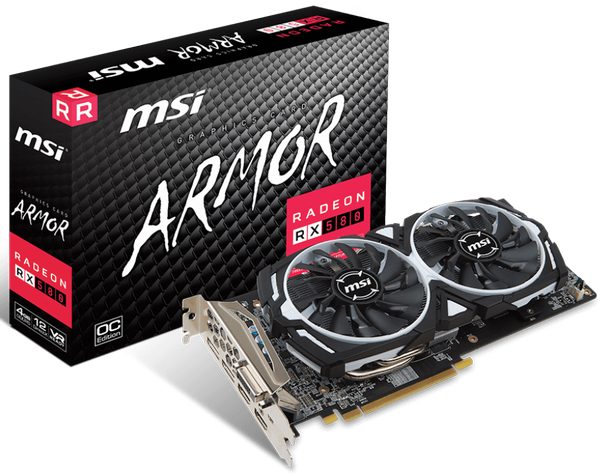 A complete list of new MSI Radeon RX 500 series video cards looks like this:
* MSI Radeon RX 580 8 GB Gaming X Plus: the frequency of the GPU is 1256/1441 MHz, the memory frequency is 8100 MHz;
* MSI Radeon RX 580 8 GB Gaming Plus: the frequency of the GPU is 1256/1431 MHz, the memory frequency is 8000 MHz;
* MSI Radeon RX 580 8 GB Gaming X: GPU frequencies 1256/1393 MHz, memory frequency 8100 MHz;
* MSI Radeon RX 580 8 GB Gaming: the frequency of the GPU is 1256/1366 MHz, the memory frequency is 8000 MHz;
* MSI Radeon RX 580 4 GB Gaming X: GPU frequencies 1256/1393 MHz, memory frequency 7000 MHz;
* MSI Radeon RX 580 4 GB Gaming: the frequency of the GPU is 1256/1366 MHz, the memory frequency is 7000 MHz;
* MSI Radeon RX 580 8 GB Armor OC: GPU frequency 1256/1366 MHz, memory frequency 8000 MHz;
* MSI Radeon RX 580 8 GB Armor: the frequency of the GPU is 1256/1340 MHz, the memory frequency is 8000 MHz;
* MSI Radeon RX 580 4 GB Armor OC: GPU frequencies 1256/1366 MHz, memory frequency 7000 MHz;
* MSI Radeon RX 580 4 GB Armor: the frequency of the GPU is 1256/1340 MHz, the memory frequency is 7000 MHz;
* MSI Radeon RX 580 8 GB: the frequency of the GPU is 1256/1340 MHz, the memory frequency is 8000 MHz;
* MSI Radeon RX 570 8 GB Gaming X: GPU frequencies 1168/1293 MHz, memory frequency 7100 MHz;
* MSI Radeon RX 570 8 GB Gaming: GPU frequencies 1168/1268 MHz, memory frequency 7000 MHz;
* MSI Radeon RX 570 4 GB Gaming X: GPU frequencies 1168/1293 MHz, memory frequency 7100 MHz;
* MSI Radeon RX 570 4 GB Gaming: GPU frequencies 1168/1268 MHz, memory frequency 7000 MHz;
* MSI Radeon RX 570 8 GB Armor OC: GPU frequencies 1168/1268 MHz, memory frequency 7000 MHz;
* MSI Radeon RX 570 8 GB Armor: GPU frequencies 1168/1244 MHz, memory frequency 7000 MHz;
* MSI Radeon RX 570 4 GB Armor OC: GPU frequencies 1168/1268 MHz, memory frequency 7000 MHz;
* MSI Radeon RX 570 4 GB Armor: GPU frequencies 1168/1244 MHz, memory frequency 7000 MHz;