The conference ISSCC 2017  TSMC and Samsung companies both have demonstrated their achievements in the development of 7-nm process technology.  Details are not very many, but they all say that each of the companies significantly differ in the methods they use or plan to use for the production of 7-nm semiconductors.  Process technology chip production with the standards of 7 nm can be so different that the design for someone from the manufacturer can be a highly specialized profession.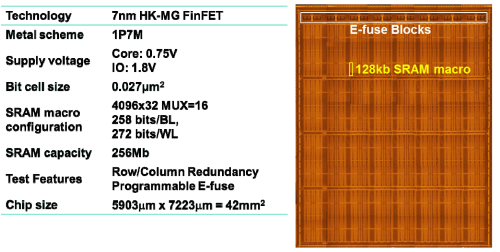 So, at ISSCC 2017 TSMC company showed quite finished array of SRAM capacity of 256 Mbps with all necessary interfaces.  In fact, it is a commercial product with a "very good" indicator of yield crystals, as recognized in TSMC.  For Taiwanese contractor it is very important because its main client - Apple company - literally driving in the neck of their contractors, causing extremely rapid introduction of new technical processes.  TSMC company  is going to start mass production of 7-nm solutions in the first quarter of 2018.  Therefore, today it should be clearly understood that it will go through the conveyors 12 months.
SRAM memory unit TSMC company can boast the smallest SRAM cell in the world -  the brick at the base of Apple processors and other companies.  Dimensions of the memory cell in a 7-nm process up 0.027 mm2, and the size of the entire chip - 42 mm2.  The memory unit 7-nm process technology covers 34% of the same, but now available using the 16-nm process technology.
Samsung is unlike TSMC does not carry "heavy burden" of working with Apple, and it is in no hurry with pilot production of 7-nm semiconductors.  This results in that Samsung tries to use for the production of 7 nm EUV-scanners solutions.  The absence necessary for the mass production of EUV-scanners chips leads to the fact that Samsung is not even boast advanced 7-nm silicon.  At the conference, it brought a picture-concept as it may look a block of 7-nm SRAM compared to 10-nm SRAM, is already running in production.  Based on the image (see. Above), the block size is reduced by about one third.  

Select Rating :

ISSCC 2017 TSMC and Samsung differ in the 7-nm chip technology release
Add Comment ( 1 )
ISSCC 2017 TSMC AND SAMSUNG DIFFER IN THE 7-NM CHIP TECHNOLOGY RELEASE