Seagate has published a report for the second quarter of fiscal year 2017, which ended in , December 30, 2016.  The manufacturer was so pleased with the improvement of financial performance, which in the profile dedicated to the presentation of the dynamics a separate table.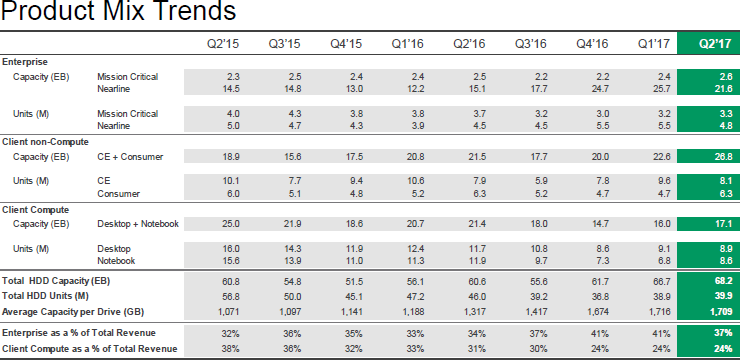 Throughout 2016 Seagate revenue increased in size, to the fourth quarter up to $ 2.89 billion grew and profit margins -. 20.2% at the beginning of the year to 30.8% at the end.  And if increased to 21%, by the end of the period it was reduced to 18% in the middle of the year the ratio of operating expenses to revenues.  Operating margin all rose from 1% to 13%.  By the fourth quarter, Seagate was able to increase its net profit to $ 297 million. And raise the share of earnings per share before the symbolic $ 1.
In total in the fourth quarter of 2016 calendar year, Seagate shipped 39.9 million. Hard drives, in the long term, have to say on the reduction of sales volumes, even though six months ago it was even worse.  Continuously increasing the average capacity of a storage device, and the total volume sold hard drives.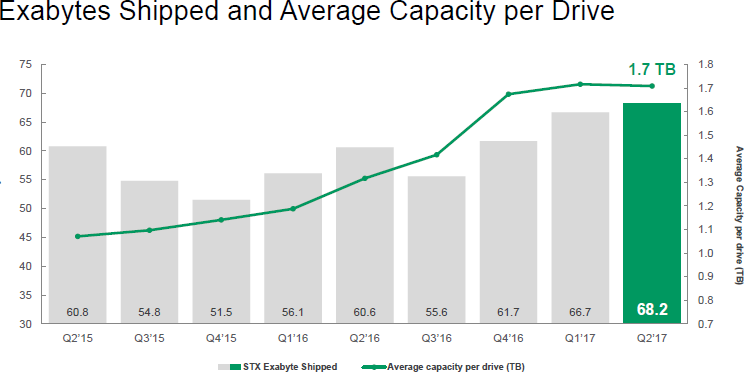 The client PCs were only 17.5 million sold in the last quarter, Seagate brand hard drives, with the share of desktop products is reduced, and mobile -. Increases.  In the corporate segment of the market Seagate has received 37% of total revenue, in the segment of consumer PCs - only 24%.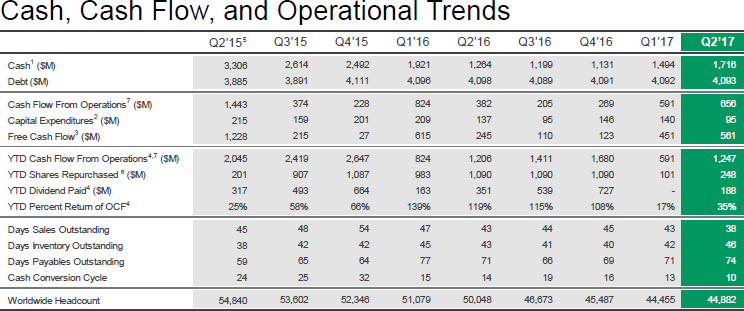 The average selling price of Seagate hard drive - $ 66, for the year it grew by 12%, but remained at the same level with the quarterly comparison.
Note the last line of the table that displays the list number of personnel Seagate.  Over recent quarters it gradually declined, but in the past reporting period, even managed to increase by 427 people.

Seagate's Guide on the reporting of quarterly conference expressed the hope that the 80% range of products retains growth potential in the coming year.  In the desktop segment, Seagate believes its products highly competitive, popular storage capacity from terabytes and beyond.  In the server segment customers already offered samples of hard drives with a capacity of 12 TB, on the approach and prototype volume of 16 TB.  The latter, according to the general director of Seagate, will have up to eight platters.  Creating a hard drive volume 20 TB Seagate is also included in the plans, but is not tied to specific dates.

Select Rating :

Seagate believes in the creation of a real hard disk volume 20 TB
Add Comment ( 1 )
SEAGATE BELIEVES IN THE CREATION OF A REAL HARD DISK VOLUME 20 TB