Manufacturer shared  the publication of new smartphone Samsung Galaxy S8 and Galaxy S8 Plus.  They will be presented this spring and will replace the Samsung Galaxy S7 and Galaxy S7 Edge.
The dimensions of the new flagship Samsung smartphone.  According to their size, they will be comparable to its predecessors, despite the fact that the diagonal of the display will be more.
Samsung Galaxy S8 Plus is equipped with a curved screen diagonal of about 6.3 inches.  Its dimensions are  152.38 x 78.51 x 7.94 mm.  It will be slightly wider and taller Galaxy S7, body width is 72.6 mm, and height - 150.9 mm.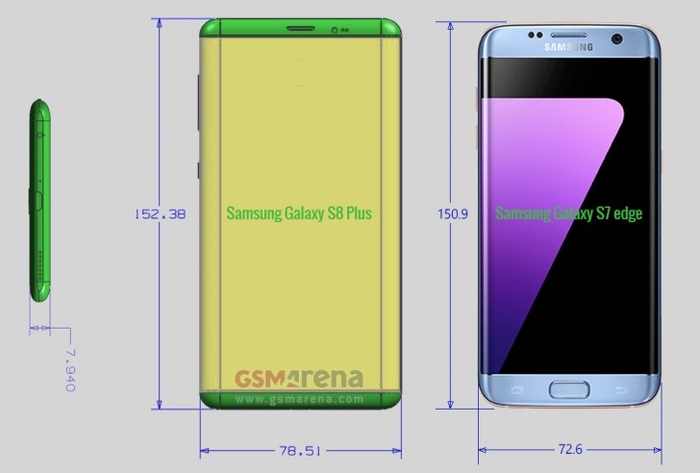 Samsung Galaxy S8,  will be  slightly thinner, but wider than its predecessor.  It will receive the curved screen diagonal of about 5.7 inches and is clad in a body width of 72.2 mm, a height of 140.14 mm and 7.3 mm against 142.4 x 69.6 x 7.9 mm at the Galaxy S7.

Also GSMArena sources declassified model number Samsung Galaxy S8 and Galaxy S8 Plus.  The new flagship Samsung Galaxy S8 in China will receive a model number SM-G9500, and  Plus-version will be available in the Chinese market under the SM-G9550 number.  The international version of Samsung Galaxy S8 denoted as SM-G950X, where X is replaced with other letters, depending on the sales region and mobile operator.  

Select Rating :

Samsung Galaxy S8 and Galaxy S8 Plus