AMD partners presented a number of motherboard processor  Socket AM4 based AMD sets B350 and X370 chipset.  However, details about the characteristics and capabilities of these and other AMD chipset 300 series, very little was known.  Now, our colleagues published a series of slides that reveal some details about the new AMD platform.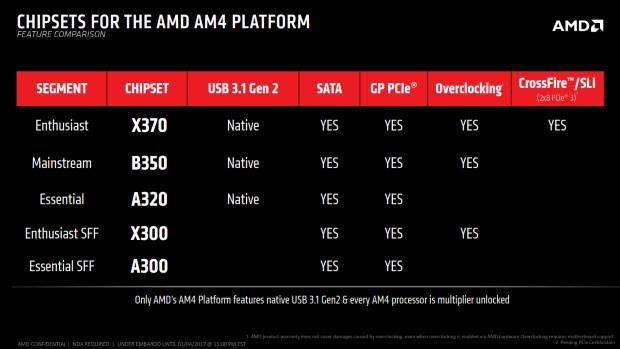 Immediately it is worth recalling that the processors AMD Ryzen are essentially single chip platform.  As for the chipset, they can be divided into two categories: "standard" and designed for motherboards compact size (SFF).  The latter, called the X300 and  A / B300, have limited functionality, but provides SATA RAID operation, and differ from each other so that the model with the prefix X supports processor overclocking  and configuration with multiple-slot PCIe.
In turn, the standard chipsets, which include AMD A320, B350 and the X370, do support up to two ports USB 3.1 Type-C and several USB 3.0 (as well as USB 2.0).  Senior chipset AMD X370 supports a four ports SATA 3.0, two SATA Express, has eight lines PCIe 2.0, supports the configuration of the twographics cards, and also supports processors overclocking .  Chipset AMD B350 has two lines PCIe 2.0 .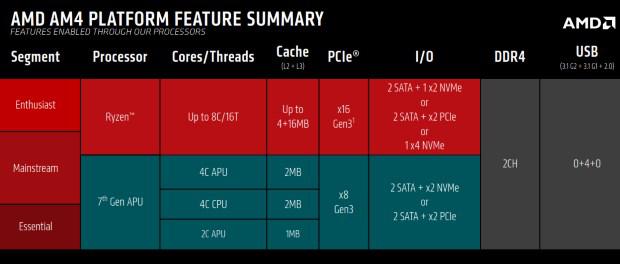 It turns out that AMD X370 provides six SATA 3.0 ports, 32 lines PCIe, two USB 3.1 ports and ten USB 3.0 ports.  Very nice, but it does bring AM4 platform closer to the usual Intel desktop processors in LGA 1151, but not to a high-performance platform LGA 2011-3.

Select Rating :

Characteristics of new AMD chipset 300 series
Add Comment ( 1 )
CHARACTERISTICS OF NEW AMD CHIPSET 300 SERIES