After many rumors and leaks,  Gigabyte company, finally officially introduced Aorus line of motherboards based on the Intel Z270 set of system logic.  These boards are designed to build productive gaming systems, primarily based on the Kaby Lake processors in the performance of LGA 1151. In total, the line included six following motherboards: Z270X-Gaming 9, Z270X-Gaming 8, Z270X-Gaming 7, Z270X-Gaming K7 , Z270X-Gaming 5 and Z270X-Gaming K5.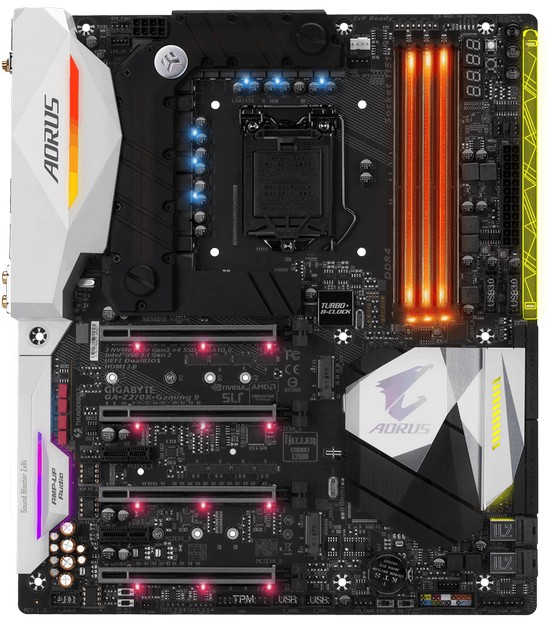 New products have several features in common.  So, all six motherboards slots DDR4 memory modules, and slots PCI-E x16 reinforced with metal plates.  All new items have two BIOS chips, and their power system equipped with massive radiators.  The model Gaming 9 waterblock production EK Water Blocks, while the Gaming 8 - Bitspower.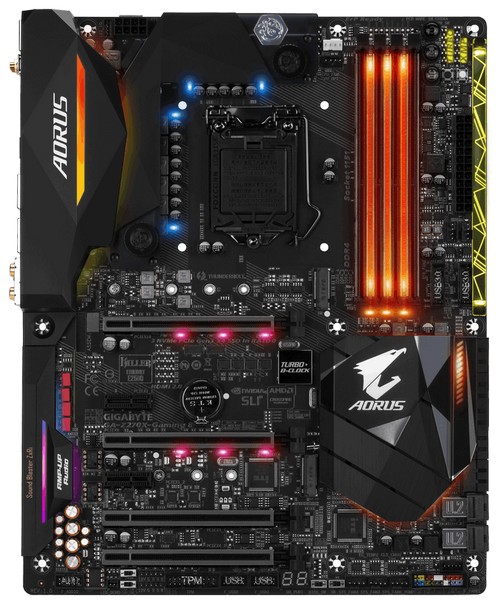 An interesting feature of the motherboard Aorus Z270X-Gaming 9 is also the presence of controller EX8747 PLX, which supports up to 32 PCI-E 3.0 lines, and provides a more uniform distribution of the 16 PCI-E 3.0 CPU lines that, according to the manufacturer, provides a more high performance when using several bundles of cards.  Also, this board supports Killer DoubleShot X3 Pro, which provides simultaneous operation of two network adapters and wireless Killer E2500 Killer Wireless-AC 1535 adapter.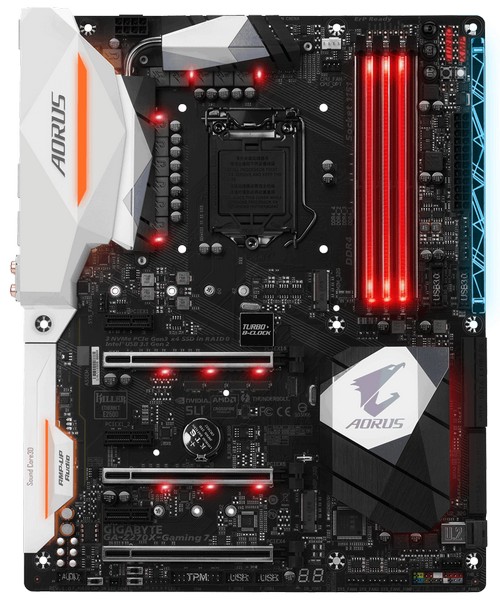 The first three moherboard from the list first  received audio system based codecs Creative (Sound Core 3D ZxRi the models Gaming 9 and Gaming 8 and Sound Core 3D SBX Pro Studio Audio Suite for card Gaming 7), as well as additional shielding and Nichicon capacitors.  In turn, the three remaining new items received audio system based on the latest codec Realtek ALC 1220 (model Gaming K7 additionally boasts of having the Sound Blaster X-Fi MB5).
All half-baked representatives Aorus line equipped with four slots for memory modules and supports DDR4 modules with frequencies up to 4000 MHz.  As for the set of expansion slots, here the situation is as follows: Z270X-Gaming 9 and 8 Z270X-Gaming have two connectors PCI-E x1 and four PCI-E x16;  model Z270X-Gaming 7, Z270X-Gaming K7, Z270X-Gaming 5 and Z270X-Gaming K5 have three slots 3x PCI-E x1 and PCI-E x16.
As for connectors for data storage, the board Z270X-Gaming 9 is a winner on staffing eight SATA 3.0, three SATA Express (composed of SATA ports), and two M.2 and u.2. In motherboard Z270X-Gaming 8 is almost the same set, only two less SATA ports. And Z270X-Gaming 7 models, Z270X-Gaming K7, Z270X-Gaming 5 and Z270X-Gaming K5 just one U.2 connector is less than the Z270X-Gaming 8.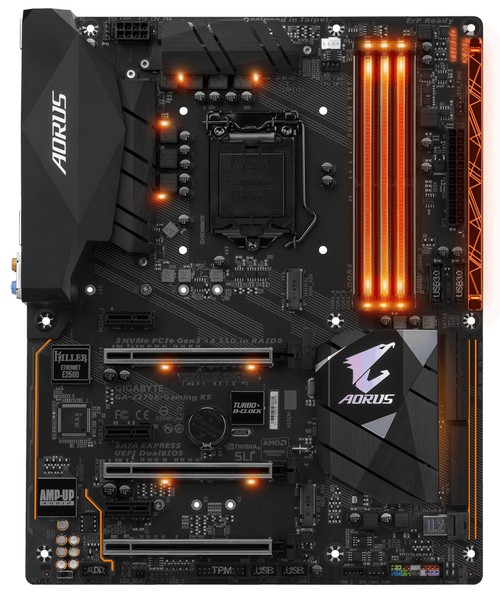 Motherboard Gigabyte Aorus will be available in the near future, but their cost manufacturer has not yet announced.

Select Rating :

Gigabyte introduced a line of motherboards on Intel Z270 Aorus chipset
Add Comment ( 1 )
GIGABYTE INTRODUCED A LINE OF MOTHERBOARDS ON INTEL Z270 AORUS CHIPSET