Intel processors Skylake-S:  should appear in the second quarter of 2015, to provide support for DDR4 and go without free multiplier, they will require new motherboards with LGA 1151, and chipsets cell series . Overclockers will be offered Broadwell processors in LGA 1150, who will receive a free multiplier and retain the ability to work in motherboards based on chipset ninth series.  
Assocaie has published an interesting article about the properties associated with processors Skylake chipsets Intel cell series.  First of all,  became known list of their full names: Q170, Z170, H170, Q150, B150, H110.  The higher the numerical index, the richer functionality, but successors Z97 and H97 chipsets should be considered Z170 and H170, respectively.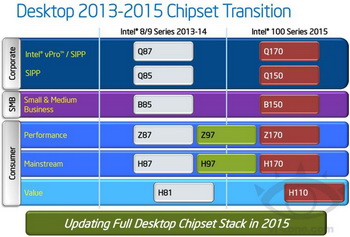 One of the major innovations - by chipset support up to twenty (Z170) or sixteen (H170) lines PCI Express 3.0.  Their predecessors capabilities are much more modest - they support 8 lanes PCI Express 2.0, which should be shared equitably between the integrated controllers and expansion cards.  We add that the number of supported by the chipset USB 3.0 ports has also increased up to 10 in the case of the Z170, and 8 in the case of H170.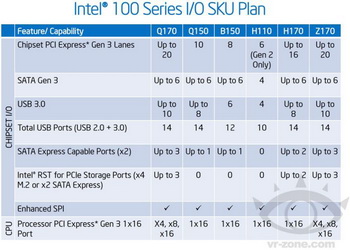 Both chipset supports 6 SATA-600 devices.  Senior Z170 is capable of supporting up to three devices SATA Express, three drives for PCIe supports Intel RST.  In the case of H170 chipset it support two devices.

When you install the processor Skylake in Z170  you can implement support for PCI Express 3.0 configuration "x16 + x8 + x4", and chipset H170 allowed only option x16, although Q170 chipset in this sense are given equal rights with Z170.  

 Intel, at its September 2014 IDF session not only will tell about the processors Skylake, but will mention the 10-nm generation of processors Cannonlake - possibly in the form of silicon wafers .

Select Rating :

Intel chipsets for Skylake receive expanded configuration PCI Express 3.0 and USB 3.0
Add Comment ( 1 )
INTEL CHIPSETS FOR SKYLAKE RECEIVE EXPANDED CONFIGURATION PCI EXPRESS 3.0 AND USB 3.0