Another research company IC Insights analysts semiconductor market showed that the number of companies that use in the production  300-mm wafers, twice, and even less than the number of companies using  the production of 200-mm wafers.  The observed trend indirectly suggests that the transition to a larger plate diameter  - 450 mm - is a matter of very long, if it will happen at all .
Until 2008, the 200-mm silicon substrate (wafer) used for integrated circuit output, as well as a different diameter plates (larger and smaller).  Since 2008, the production of integrated circuits has been transferred to 300-mm wafers.  Below the graph you can see the list of the top 10 semiconductor companies by revenue in terms of the installation of 300-mm, 200-mm lines, designed for plates with a diameter of less than 150 mm.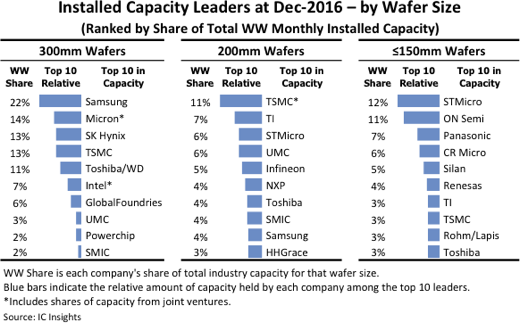 Among the companies that own 300-mm lines, we see very often producers of certain digital chips: DRAM and NAND chips released Samsung, Micron, SK Hynix and Toshiba / Western Digital;  contractual chips fabricated TSMC, GlobalFoundries, UMC, Powerchip and SMIC;  and Intel in this list, while it is so steep that deserve to go as a separate item, as the largest manufacturer in the semiconductor market.  For all these companies transition to 300-mm wafers allows to reduce the production cost of chips, and they mainly switched to the larger plate diameter  .
In the category of the principal owners of 200-mm lines leading companies engaged in contract manufacturing of semiconductors and producers of "mixed" mixed-signal ICs and microcontrollers.  Plates diameter less than 150 mm manufacturers use with a wide range of semiconductor products.  Among them is the largest company STMicroelectronics.
Returning to the top notes, once again emphasize the trend noticed by experts: the number of companies that own 200-mm and 300-mm factories, reduced, and the proportion is shifted towards the owners of the lines that can handle the larger diameter plate.  The producers enlarges the production, placing on the enterprises more and more lines.  

 

Select Rating :

Semiconductor manufacturers are not in hurry to abandon the 150-mm and 200-mm wafers
Add Comment ( 1 )
SEMICONDUCTOR MANUFACTURERS ARE NOT IN HURRY TO ABANDON THE 150-MM AND 200-MM WAFERS