Western Digital company  last week held a meeting with analysts, which produced a comprehensive presentation on its current activities and future plans.  Below, through a series of slides of this presentation, we will describe the technologies that will help the company hard drives remain popular product, and will not allow them to die under a tree SSDs.  Recent slowly but surely becoming cheaper and gradually displace hard drives from a relatively small category of storage capacity.  According to forecasts of Western Digital, 2020 512 GB SSD will cost as much as today  1 TB hard drive.
Taking into account a number of significant advantages of SSD over HDD, meaning to acquire the hard disk 1TB and even more at risk of being lost.  HDD manufacturers are obliged to submit to the magnetic storage plates significantly greater capacity, for which new technologies are needed.  But even with this 2020 SSD penetration in the desktop PC promises to exceed 50% (53%), and laptops - to reach 72%.  The company Western Digital has protected itself from the troubles andbought the developer and manufacturer of flash memory in the face of the company SanDisk.  
So, in 2017 Western Digital will begin to produce 12 TB and 14 TB hard drives with helium environment in HDA with magnetic plates.  The number of plates in the HDA is increased from 7 to 8 and, in the case of a 14-TB storage device is implemented as a method of "tiled" with partial overlap recording tracks.  Another option to increase the recording density on the magnetic plate will be the technology of two-dimensional magnetic recording TDMR (Two Dimensional Magnetic Recording).  Drives using TDMR-heads promise to appear in 2018.  In 2019 will be released long-awaited HDD-drives with HAMR technology, and after 2020 may start to go with two hard drives, and even a large number of plate packs in one HDD enclosure (spindle).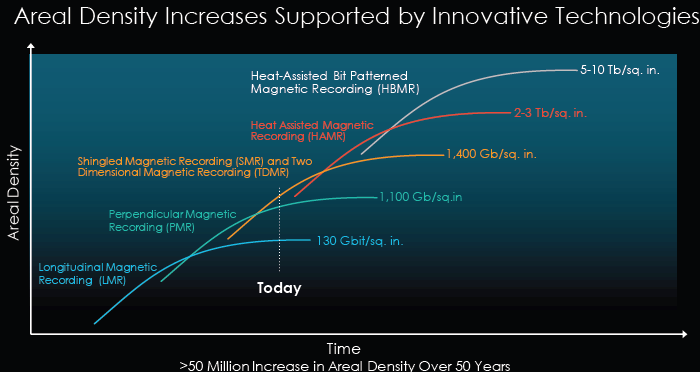 Today, the recording density with a conventional perpendicular PMR technology is approaching the bottom to 1 Tbit / sq.  inch.  SMR (stone) technology allow to overcome the barrier of the density of 1 Tbit / sq.  inch, and with TDMR technology promises to raise the recording density on the plate up to 1.4 Tbit / sq.  inch.  HAMR technology will increase the recording density to 2-3 Tbit / sq.  inch, and in combination with the recording on pre-etched magnetic islands (patterns) will increase the recording density of 5-10 Tbit / sq.  inch.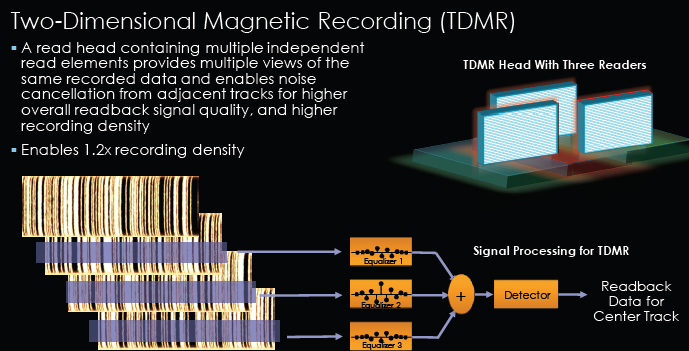 TDMR technology that will soon continue the development of the hard drives, is an analogue of SMR technology (recording overlap) only for read heads.  Instead of one head for reading, which is no longer possible to reduce the gap, to be used a few heads with the shift - three to five or even more.  The heads can be positioned as the one behind the other (chain), and the front wings with partial overlap.
HAMR technology - a record for a pre-heated portion of the magnetic plate.  Reheating may be a laser built into the magnetic head, as proposed by Western Digital, or by microwave oscillator as offer alternative design.  In both cases, the entry with the heating area allows  to keep the magnetization in strong cross magnetic fields from adjacent sections of the magnetization.  Experienced HDD with HAMR technology has already demonstrated TDK company together with Seagate.  Planned even that HAMR-drives with heads TDK will be on sale in 2015, but this did not happen.  Well, the wait is now 2019.

Select Rating :

Western Digital promises to introduce new HDD technologies in 2018 and 2019
Add Comment ( 1 )
WESTERN DIGITAL PROMISES TO INTRODUCE NEW HDD TECHNOLOGIES IN 2018 AND 2019