By :hardware psu review
Posted:2006-04-13






xtreview is your : Video card - cpu - memory - Hard drive - power supply unit source







Zippy Emacs HP2-6500PE (500W)
I guess many of our readers have heard the name of Zippy Technology, yet the company is mostly known as the manufacturer of server-oriented Emacs power supplies. Some time ago they decided to enlarge their product range to cover home users, too. To address the gaming community they released a series of power supplies under the name of "Gaming Power".
Zippy Emacs HP2-6500PE (500W)
The 500W HP2-6500PE model is a midrange Gaming Power product. The series includes models a hundred watts more and less powerful than this.
The PSU has a black steel case of a non-typical design with an L-shaped rather than U-shaped cover. When removed, the cover exposes the PSU's contents from the top and back.
The HP2-6500PE betrays its server origin right away: it uses an 80mm fan under a pressed-out (rather than wire) grid; the mains connector has lugs for a spring that would hold the cable down and there is a modest green power indicator above it. Zippy seems to have just re-released an ordinary server power supply, having painted it black and put it into a beautiful box. I'm afraid that's not exactly what home users need whose requirements differ from server integrators'.
Zippy Emacs HP2-6500PE (500W)
Zippy Emacs HP2-6500PE (500W)
The PSU is based on a Fairchild ML4800CP chip, which is a PWM controller and an active PFC controller in a single case. The components are packed densely; the heatsinks are large and occupy almost all of the free space (not surprising, considering the 80mm fan). The odd plastic square on the heatsinks is used for the top cover which is fastened to it with two screws.
Zippy Emacs HP2-6500PE (500W)
The power supply is universal in its specs. On one hand, it can yield up to 432W through the +12V rail. On the other hand, the +5V rail has a very high load capacity by today's standards, but modern computers do not actually need that.
The PSU is equipped with the following cables and connectors:
Mainboard cable with a 24-pin non-splittable connector; 58cm long
Cable with a 4-pin ATX12V connector; 58cm
Cable with an 8-pin EPS12V connector; 58cm
Two cables with 6-pin graphics card connectors; 58cm each
Two cables with two SATA power connectors; 59cm+16cm
One cable with two Molex connectors and one floppy mini-plug on each; 56cm to the first plug and 15cm more to each next plug
One cable with three Molex connectors; 56cm to the first plug and 15cm more to each next plug
The only problem you may have with the connectors available here is that there is a 24-pin EPS12V-compliant mainboard connector while most other PSUs offer splittable connectors with a detachable 4-pin part.
It's all splendid otherwise: two connectors for graphics cards (and you wouldn't probably want to buy a PSU of that high wattage for a computer with a single graphics card) and four power connectors for SATA drives – just what a high-wattage modern power supply should be equipped with.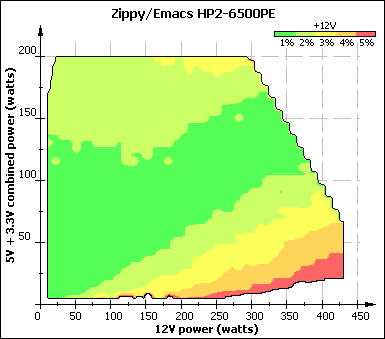 The cross-load characteristic of the PSU looks well, although not quite ideally. The main problem is that the +12V voltage bottoms out under +12V-oriented loads. And it is typical of all modern computers, especially of those with a SLI or CrossFire graphics subsystem, to consume a lot from the +12V power rail and little from the other ones. On the other hand, the +12V voltage goes out of the acceptable limits at greatly misbalanced loads only, so this is not such a terrible defect.
I tested the PSU with an APC SmartUPS SC 620 uninterruptible power supply. The UPS would indicate overload at a load of about 365W (AC power source) and 320W (when switching to the batteries). There were no problems under loads of below 320W: both the power supply and the UPS correctly worked through disconnection from the 220V electric network.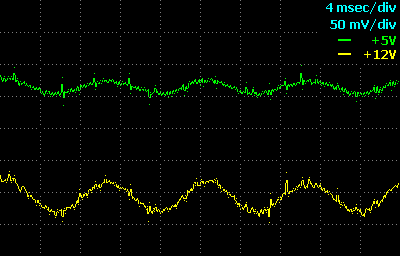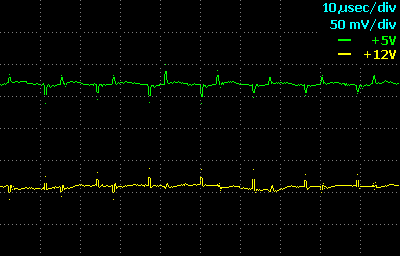 At full load (500W) the voltage ripple was 37 millivolts on the +5V rail (mostly low-frequency pulsation as the lower of the two oscillograms shows), 71 millivolts on the +12V rail, and 32 millivolts on the +3.3V rail. The pulsation becomes weaker at lower loads.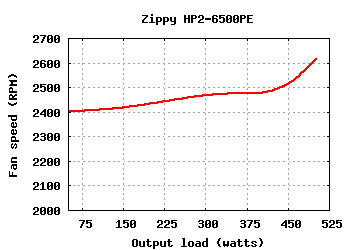 The unit is cooled with an NMB-Matsushita 3110GL-B4W-B54 fan whose speed is adjusted depending on the temperature. The PSU is among the quieter models with 80mm fans, but it cannot compete with 120mm fans. The fan is audible at work.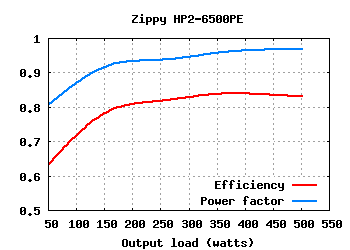 The efficiency of the PSU is good at 84%. The power factor is less good, being 0.97 at best, which is lower than with many other PSUs with active PFC. The difference is small, though.
So, it is clear the Zippy HP2-6500PE is originally a server power supply which has been released anew in a colorful box for home users. The server origin of this model is betrayed by its appearance as well as parameters, particularly by the high load capacity of the +5V rail. This is a high-quality and reliable power supply capable of coping with any modern computer, but you won't like it if silence is your priority. The speed of its fan is too high even under low loads. Owners of powerful, probably overclocked computers with a top-end processor and a SLI or CrossFire subsystem consisting of two top-end graphics cards should be aware of the sagging +12V voltage. This voltage is likely to go down to 11.5-11.6V with your configuration, potentially spoiling your overclocking attempts.
click here






xtreview is your : Video card - cpu - memory - Hard drive - power supply unit source







we would be happy to answer for your question . if you have suggestion or comment regarding this review our support would be glad to help just join our forum and ask u will get the best answer
to discuss check our forum section :-)
RATE THIS REVIEW