One additional important producer of electronics, benQ company  , announced their notebook on Intel pine trail platform. The model was called joybook lite u103 and differed from in terms of hard disk capacity  : here it is 500 Gb. When desired the HDD can be replaced by 32-GB SSD. Joybook lite u103 is based on Pine trail, Intel atom n450 with built-in video card and 1,66 GHz frequency. Touchpad reacts to several simultaneous pressures due to the technology multi-touch. BenQ is assembled to release Joybook lite u103 to the end of January. Other countries will obtain this laptop nearer to spring. It will be sold in the white and dark-blue colors color.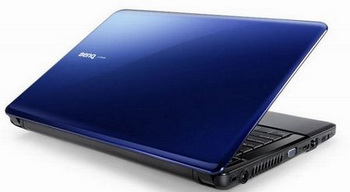 Technical characteristics benQ joybook lite u103:
10,1- one inch screen, LED- illumination;

platform Intel pine trail;

Processor Intel atom n450;

Touch pad multi-touch;

HDD on 500 Gb;

SSD- 32 Gb

1,3-mp Web- camera;

Module wiFi 802.11 b/g/n, optional bluetooth 2.1 and 3,75G;

Windows 7.

Related Products :