On the exhibition CES 2011 COSMOS company presented the mobile computer OCS9.
The tablet is based on the platform Intel atom new generation (Oak trail) with Windows 7.  
It is equipped with 9 inch sensory screen 1024 X 768 pixel, controller QWERTY with virtual keyboard, wi-Fi and Bluetooth, GPS receiver,  USB 2.0, stereophonic loudspeakers, microphone, gyroscope and accelerometer. The configuration of system includes SSD with 64 GB volume, two cameras: frontal 1,3 Mp and rear 3,1 Mp.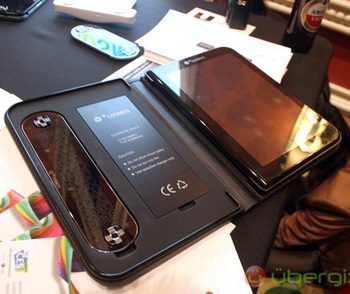 The case, which retains the detached controller and the second battery,  prolongs the operation time of tablet.


Related Products :