The overall design of GA -X58A-oc  is optimized for use in the extremely overclocked systems: space around the processor and between PCI express x16 slots, for example, maximally facilitates the procedure of thermoinsulation of printed-circuit board. Four slots PCI express x16 pay work according to x16 + x8 + x16 + x8.
The processor power system is capable of accepting up to 1500 W of input power.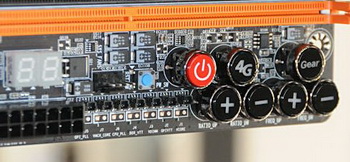 Special keys for overclock control  not only raise the frequency of processor to 4 GHz, but also occupied by subsequent fine adjustment of the parameters. User obtains the possibility to increase the frequency of bus with a step of from 0.3 to 1 MHz, and also to increase or to reduce the coefficient of processor independently of the operating system and without the need for Bios. Contact areas for the measurement of voltage with the aid of multimeter are also provided.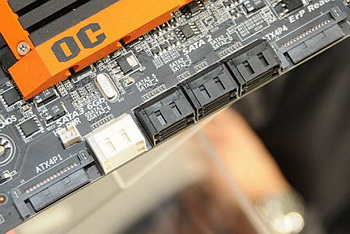 Two additional power port in the design concept Of serial ATA are called to increase the stability of video card with overclock. The presence of two Bios microcircuits not only store reserve setting but also store up to 16 different profiles .Gigabyte GA -X58A-oc will enter in this month on the price of approximately $280.


Related Products :