Sparkle company presented new Calibre cards all are based on chips from Nvidia and support three-year manufacturer's warranty.
Among the features of recent cards we note  Calibre Technologies Mono Luxury, implying the use of an aluminum front cover and back  cooler panels, to improve the ability of cooling.
The high end Calibre card  , received the name Calibre X580 Captain, based on the model GeForce GTX 580 and using hybrid capacitors , the PCB include special points for voltage reading with a multimeter, and support at least five displays, via two Dual-Link DVI ports and three mini DisplayPort connectors .
The next stage in the model Calibre X560 Ti DF and X560 DF (based on the GTX 560 and GTX Ti 560), using heat pipes Cool Pro and equipped with cooling systems that include two 8-mm copper heat pipes and two 9-cm ball bearing fans.  The cooling system of a higher class, applied to these adapters, provides up to 7% lower temperature (at full load) than similar cards based on the reference design Nvidia.
Model with an excellent price / performance ratio - X550 Ti DF is equipped with Japanese solid capacitors, also equipped with heat pipe , Cool Pro and dual-slot cooler with two ball bearing fans.
The last models was the low profile card Calibre X520, which is specially designed for use in HTPC-system.  The card use Japanese solid capacitors, up to 2 GB of RAM, Cool Pro modules, one slot cooler with a fan (with a double ball bearing, and two DVI and HDMI outputs.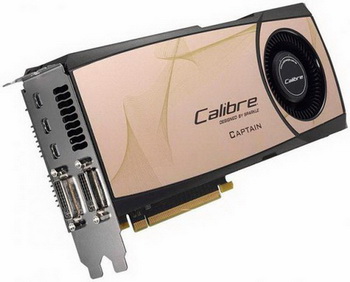 Related Products :