At the end of the year and at the very beginning, analysts traditionally publish data on the results of the previous year and the next quarter.  Gartner report   , dedicated to the mobile phone market in the fourth quarter 2012 and for the whole year.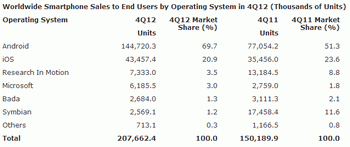 A total of 2012 were sold 1.75 billion these mobile devices - 1.7% less than in 2011.  Market driver predictably become smartphones, with sales in the fourth quarter showed an annual growth rate of 38.3% to 207.7 million units.  While smartphone sales in the fourth quarter grew by almost 40%, annual sales of handsets in the quarter fell by 19.3% to 264.4 million units.  Note that in 2010 and 2011, the market for mobile phones has been on the rise.  In 2013, analysts expect the annual growth of the market to 1.9 billion units, of which about 1 billion will be smartphones.  Since the average smartphone is more expensive than the phone, you should understand that the economy will continue to be strongly reflected in the market.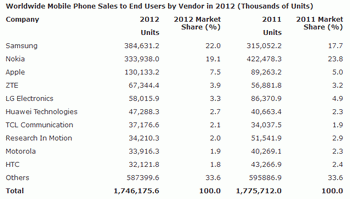 The combined share of Apple and Samsung in the smartphone niche for the year increased from 46.4% to 52%.  A world leader remains Samsung company , both in the smartphone market, and among the mobile phone manufacturers.   However, the third place in the smartphone market has got Huawei company .  In 2012, this Chinese brand sold 27.2 million smartphones, which is 73.8% more than in 2011.  
Market leader - Samsung company  - in the fourth quarter sold 64.5 million units.  During the year the number of Samsung devices sold increased by 85.3%.  For the entire 2012 South Korean manufacturer has sold 384.6 million mobile phones, 53.5% of which were smartphones .Sony and Nokia promise to improve lineups of their devices and to press the leader.  However, the market for Android-devices Samsung Galaxy brand has become almost synonymous with the operating system.  This producer owns 42.5% of the market of Android-smartphones.
Apple company  - in the fourth quarter 2012, sold 43.5 million smartphones.  During the year, quarterly sales of Apple rose by 22.6%.  Only in 2012, the company sold 130 million units.  The analysts have recorded interest in a used model iPhone, such as iPhone 4 and iPhone 4S.  Also, some people hesitate in choosing between the iPhone and the iPad Mini, which is slightly affected the sales of Apple smartphones .
Nokia company  - once the leader of the mobile phone market - in the fourth quarter 2012 fell to a new low level.  The market share of Nokia devices dropped to 18%.  Relatively good sales of Asha phones and smartphones Lumia running Windows Phone 8 is not able to support the falling interest in the Finnish company's devices.  Nokia should expand the range of Asha and increase its value with the new applications, while avoiding the loss of Symbian could not be as significant.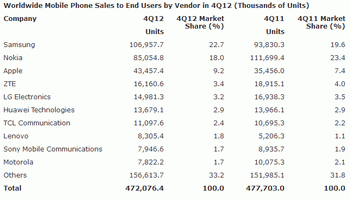 If we look at the market in terms of operating systems, it is easy to see that Android is expanding its presence far ahead of Apple iOS.  In the fourth quarter the share of Android devices grew by 87.8%.  The share of the operating system from RIM decreased by 44.4%.  Share of devices on the Microsoft operating system for the year increased by 1.2% (in terms of smart phones - by 124.2%).  


Related Products :