At the beginning of September at IFA 2015, Asus showed the first high-end video card Asus ROG Matrix GTX 980 Ti Platinum.  It was promised that the new product will be up to 20% faster than the reference sample of the GeForce GTX 980 Ti, and it will be cooler and quieter.  The graphics card will be available in November, and according to the site ComputerBase, in Germany the price of the video card will be 700 euros.
Asus has used air cooling system with two fans, which belongs to DirectCU II series and is already used in the Asus GTX 980 Matrix.  The cooling system is equipped with five 10-mm heatpipes.  For air cooling radiator correspond two fan blades with a particular form that provides a high pressure air stream compared to conventional fans.  According to Asus, this cooling system achieves 30% lower temperature than the reference SB NVIDIA.
Matrix GTX Graphics Card 980 Ti Platinum is based on overclocked at the factory GPU GM200.  In the game mode, the base processor frequency is 1190 MHz and the turbo - 1291 MHz.  The overclocked mode (OC mode), the base rate is increased to 1216 and up to 1317 MHz Turbo.  6144 MB RAM frequency is 7200 MHz.  Due overclocking Asus graphics card is faster, which can be clearly seen in the comparative tests, the results of which are presented on the slides below.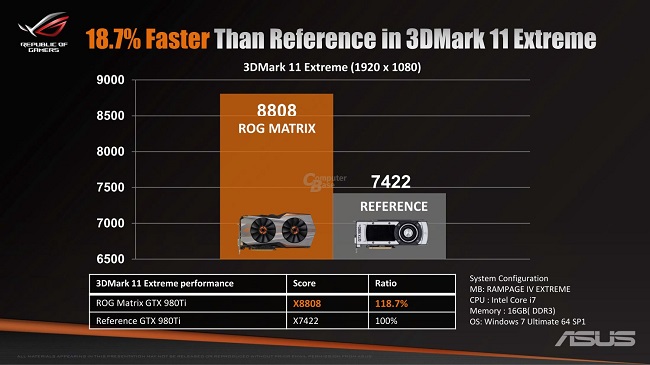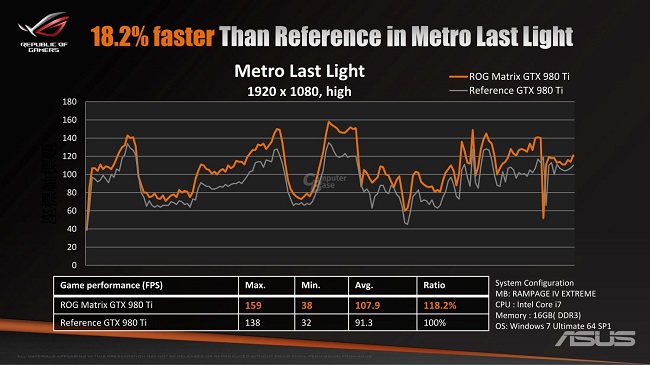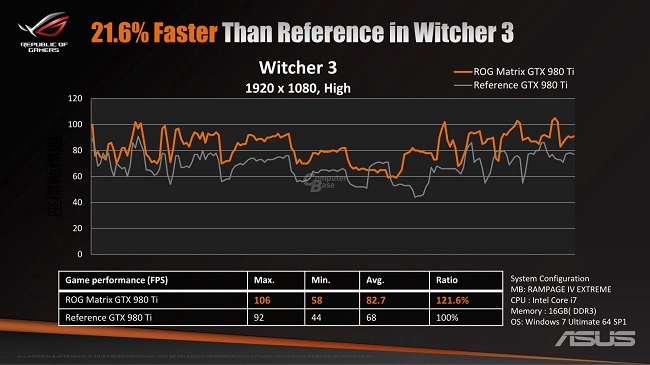 Asus Matrix GTX 980 Ti Platinum is designed for overclockers, which is confirmed by some of its features.  First of all, it is a 14-phase power system, which is made of highly reliable components, it should provide a stable voltage during overclocking.  

The new logo has a backlit ROG, which glows in different colors, depending on the speed of the video that will look good when the computer case has a window.  The card has a dual-slot design.  The rear panel has three outputs DisplayPort 1.2, and one HDMI 2.0 and DVI-I.


Related Products :