Although the global tablet market is going through hard times, some analysts believe that, as seasonal factors will have a positive impact on the demand  will occur in the third quarter .
IDC experts, however, have found a way to embellish the statistics of sales of tablets: they include the report of sales figures transformable devices with detachable keyboard unit.  This year, as the authors of the study expect sales of tablet devices will reach a historical low at 183.4 million. Products,  decline compared to the previous year of 11.5%.  But the growth of this segment will come back in 2018, and by 2020 sales of tablet devices will reach 194.2 million. Pieces.
Devices with keyboard unit will gradually afflict traditional plates exclusively with touch input data.  If now 85% of the tablet does not have a keyboard unit, by 2020, their share is reduced to 68%.  The main part of the "classical" devices will be sold in regions with a growing economy, where the low price will be the deciding factor when choosing a personal device.  However, the proportion of tablets with screens less than 9 inches by the end of the decade will be reduced from the current 55% to 40%, as producers will be interesting to produce more profitable devices with a keyboard unit having a larger screen size.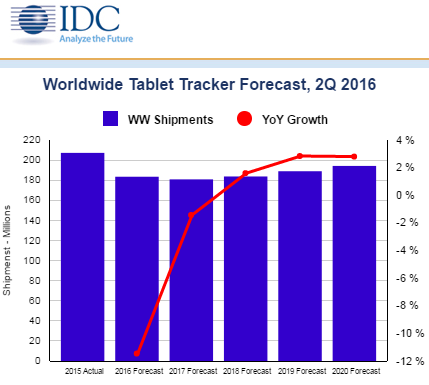 The expansion of Windows-based device in the table above is a direct consequence of the increase in demand for tablets with keyboard unit.  If iOS share will stagnate near the existing mark, the Android concede Windows to eight percent of the market.  However,  Google is also trying to please fans of "Transformers", improving support for multitasking and enhancing security features.


Related Products :