Palit previously introduced a line of GeForce GTX 1080 Ti JetStream graphics cards , and now the product range will be replenished with two new models that are integrated in the GeForce GTX 1080 Ti GameRock line.  New products are called GeForce GTX 1080 Ti GameRock and GameRock Premium , and besides the names they differ operating frequencies, as well as the price, which, like the date of the beginning of sales, is not yet specified.
The main feature of video cards series GeForce GTX 1080 Ti GameRock is their cooling system.  The manufacturer used in the new cooler four fans at once, arranged in pairs, one above the other, so that the length of the video card remained relatively small.  This solution is called TurboJET4.  The fans in the pair rotate in opposite directions, which, according to the manufacturer, creates a more powerful airflow without twists (thanks to the Anti-Vortex technology), which helps to cool the video card more efficiently.  It is also claimed that the noise level of the novelty is lower, compared to traditional coolers with a pair of fans.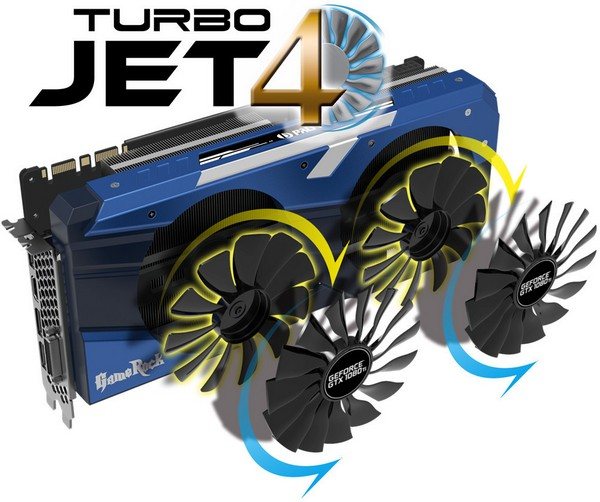 Also, the cooling system includes a copper base, to which an aluminum plate is attached, which removes heat from the memory chips, and through which passes five copper heat pipes.  Pipes pierce a pair of aluminum radiators that have become larger, compared to those used in other Palit GeForce GTX 10 series graphics cards.  On the back of the PCB there is an amplifying plate.  

Both video cards GeForce GTX 1080 Ti GameRock are built on the same printed circuit boards of its own Palit design.  The power supply subsystem includes 12 + 2 phases, as well as two 8-pin connectors.  The maximum power consumption is stated at 300 watts.  Note the presence of two BIOS chips.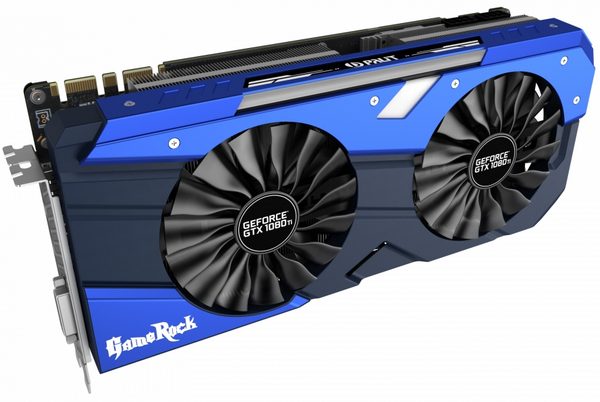 The younger model GeForce GTX 1080 Ti GameRock graphics processor works with a frequency of up to 1518/1632 MHz in the "OC" mode and 1505/1620 MHz in the "Gaming" mode.  In turn, the GeForce GTX 1080 Ti Super JetStream GPU frequencies reach 1594/1708 MHz in the "OC" mode and 1556/1670 MHz in the "Gaming" mode.  The memory for both new products operates at a reference frequency of 11008 MHz.


Related Products :