A few days ago (11-12-2008) we received a windows 7 beta version (Build 6956, 32-Bit version), and we hurried to do some test in order to check how well this new Microsoft operating system was optimized .
Windows Vista is the latest official Microsoft OS , from the functionality , reliability and design this OS was one of the best available , But in this case the memory usage was pretty high and the hardware requirement was also robust .
With Windows 7 Microsoft tied to optimize its OS, memory and the resource usage , in this case even Asus already stated that windows 7 will function correctly with budget notebook EEE PC.
From the start let us note that we deal now with beta version windows 7 , so there was many issues with drivers , The only installed one was the graphic driver from NVIDIA , Intel inf driver and many other just result in error during the install process.
The installation process was pretty fast around 15 min and the welcome screen show up . A Quick CTRL-ALT-Del right after the installs, and we found that windows 7 use only 35 process and 600MB memory . In this case Windows XP (right after the install) has only 30 (340 MB memory usage) and windows vista come with 47 processes (750 MB).
Anyway, we decided to check the current performance of windows 7 in sprite of its beta status .
Here is the list of the used hardware :
Processor : Core 2 Duo E8500 @ 3.6 GHz (450 MHz x8) , 1.15v,
Motherboard : Biostar Tpower Ip45 .
Memory : 2x 1 GB  Ocz Reaper extreme 1150 MHz (5-5-5-11) . (@1180 MHz)
Video card : Nvidia 9800 GT (700Mhz Core , 1860 memory , 1700 SHader)
HDD : Raid0,  2x Seagate 320 GB
All driver settings were at their default , the same system was used for both operating systems.
Windows 7 Vs windows XP Compression/Decompression performance :
According to Winrar and 7-zip , the Compression/Decompression is higher with windows 7 , this talk about the higher memory or cache  and also HDD performance, This will be explained in the following benchmark (memory , cache and HDD) .
Windows 7 Vs windows XP memory/cache performance :
Super Pi is mainly based on the processor cache speed and the also the memory , in this case windows 7 was faster .
Everest confirms the higher  7-zip performance with the larger memory bandwidth (for windows 7) .
Windows 7 Vs windows XP rendering performance :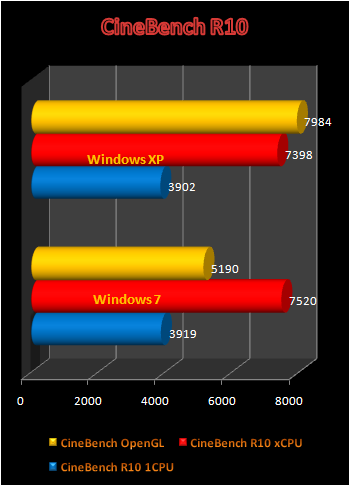 Cinebench is a rendering benchmark .For single threaded application windows 7 was faster , while with the two core loaded windows Xp became a way faster , this can be due to some lack of driver optimization under windows 7 (note again we deal with an early beta version). The OpenGL performance was almost identical .
Windows 7 Vs windows XP HDD performance :
The HDD performance was faster under windows , Windows 7 come without driver and Intel driver refused to install , so the result is pretty logic .
Windows 7 Vs windows XP 3D performance :
From the start let us note that windows 7 come already with Direct X 11 , too bad there is no application or hardware which support this API . In this case we were limited to Direct X 9 .
Fur-Mark performance was identical .
Since 3D vantage refused to Run , we were limited to 3D2006 as a synthetic benchmark , Windows XP in this case was better in all tests , but we are pretty sure that with new graphic driver optimized under windows 7 , the result will be even better than windows XP .
Real game benchmark proves the picture above with 3Dmark 2006 .


Related Products :