Thus, according to several "reliable independent sources",  in the near future, AMD will introduce two  cards: Radeon 470 and Radeon 480. It is noted that the last of them will be based on GPUs Polaris 10, and  the other - on  Polaris 11. In general, as previously thought,  AMD is preparing a mid-level graphics card, which gives hope for a very productive solutions at an affordable price.
It is reported that AMD  only a few weeks ago revealed details about the new GPU to their partners, which is somewhat difficult to develop their own versions of the cards.  It is also reported that AMD  not even allowed its partners to present their own version of the video card on the new processors at the exhibition Computex 2016.
In addition, our colleague WhyCry  has collected the most plausible results of  tests for graphics cards AMD GPU Polaris 10 in 3Dmark 11 benchmark Perfomance.  Note that these results are quite large . This is due to drivers or GPU overclocking  ,  test shows the  GPU frequency - 1266 MHz.
Thus, the graphics card with the code designation AMD Polaris 67DF: C4, which is likely to be  Radeon R9 480 appear under different conditions made 13160 and 16164 points.  AMD Polaris 67DF Video: C7, which is likely to be the Radeon R9 480X, scored 15524 and 18060 points.  Two graphics card AMD Polaris 67DF: C7 (Radeon R9 480X) in CrossFire  scored 25803 points.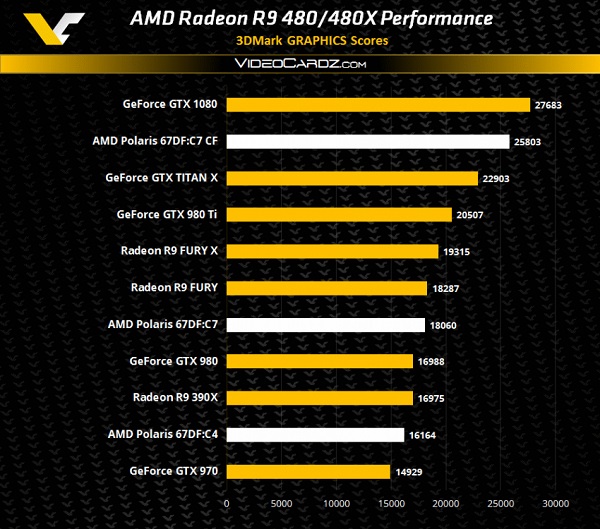 The diagram above, based on the data presented, shows a possible balance of power after the release of new products from AMD.

Select Rating :

Polaris 10 will form the base for AMD Radeon R9 480
Add Comment ( 1 )
POLARIS 10 WILL FORM THE BASE FOR AMD RADEON R9 480