The ability of GALAX video cards to reach record heights in overclocking has been repeatedly proven , but all such experiments meant the use of liquid nitrogen tanks to cool the GPU.    Colleagues from EXPreview report that the Computex 2017 brand demonstrated the option of this video card with the installed "in the factory" water block.  The latter, by the way, was developed by Bitspower.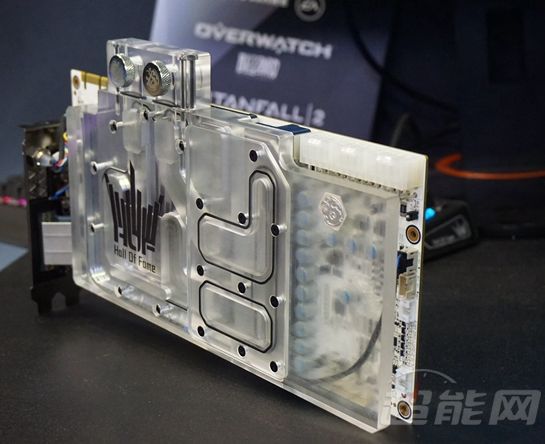 It is impossible to make a water block completely transparent, because its base should still be made of copper, but the manufacturer has tried to keep as transparent as possible a large part of the cap of the water block.  In particular, in the "stern" part of the video card it allows to see the printed circuit board of the brand milky color.
On the back of the video card, you can find one HDMI 2.0 port, three DisplayPort 1.4 outputs, and a DVI port located on the "second tier", which forces the graphics card to occupy the space of two expansion slots, even with the use of a water block.  In the neighborhood you can see the firm button for switching the operating modes of the video card.
The video card power system uses three eight-pin connectors.  In passing, the GALAX booth showed the GeForce GTX 1060 video card in the external case, which connects to the laptop via the USB-C port, using the Thunderbolt 3 interface. In the same case there is a video card power supply  .
Judging by the abundance of such solutions on the Computex 2017, the manufacturers of components finally believed in the potential of Thunderbolt 3 interface, and Intel's recent promise to make its use free for sure warms many souls.

Select Rating :

KFA2 equips the flagship version of the GeForce GTX 1080 Ti with a water block
Add Comment ( 1 )
KFA2 EQUIPS THE FLAGSHIP VERSION OF THE GEFORCE GTX 1080 TI WITH A WATER BLOCK