The popular French magazine Canard PC Hardware has published unofficial results of testing the 8-core AMD processor  , relating to the new line Ryzen.  The tests listed model processor AMD 2D3151A2M88E.   The base frequency of the core is 3.15 GHz instead of 3.4 GHz, as promised CEO Lisa Su.  This may mean that the flagship 3.4-GHz version of the model would add 8% to the performance results obtained below.  In turbo mode, the model is overclocked  to 3.3 GHz.  One core can operate at a frequency of 3.5 GHz.
Above the picture you can see the result of AMD 2D3151A2M88E processor packages for image and video processing.  Testing was conducted using Encodage HB H.264 & H.265, WPrime, PovRay 3.7, Blender 3D, 3DSMax 2015 / Mental Ray and Corona Benchmark.  On average, 8-core AMD Ryzen bypassed the previous 8-core flagship - the FX-8370 - 60%, and was slightly faster Intel Core i7-6800K.  
The conducted tests with image rendering fully disclose the potential processor architecture.  This program, with an emphasis on professional application, so opened all reserves architecture.  As you can see by the results of AMD Ryzen in professional packages - it behaves with dignity.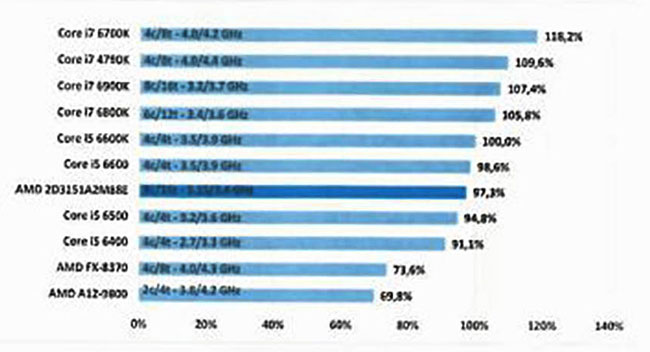 The next test - a test of the work AMD Ryzen games.  This is something that is clear to everyone.  To check  used games Far Cry 4, Grid: Auto Sport, Battlefield 4, Arma III, X3: Terran Conflict, The Witcher 3: Wild Hunt, and Anno 2070. Games are rarely optimized for multithreading.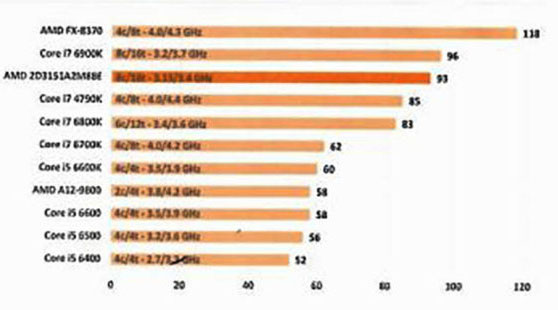 Finally, the issue of consumption during work.  Above the picture, we can see that AMD Ryzen consumes 93 watts, which is less consumption of Core i7-6900K (96 watts) and significantly less consumption of FX-8370 (118 W).  What if AMD Ryzen processors really so good at breaking up, as they say, and the price of the flagship model will be close to the stated point of $ 500 - this can be a highlight of the year.

 

Select Rating :

AMD Ryzen first benchmarks
Add Comment ( 1 )
AMD RYZEN FIRST BENCHMARKS