We learned still during September last year what gain in speed will obtain processors with ARM architecture after passage to mastered by Globalfoundries lithographic technology with 28 nm standards, . In particular, the dual core processors cortex-A9 can increase frequency from 2.0 to 2.5 GHz, and their limiting frequency can reach 2.8 GHz. According to the preliminary data, the graphical solutions AMD will pass on 28 nm technical process not earlier than the fourth quarter this year.
Associates published endurances from globalfoundries representatives , about the current achievements of company in the mastery of sequential  lithographic technology steps. The company confirmed the  appearance periods of 32 nm processors AMD on the market - their production will be expanded to the middle of this year, although even now the print run of engineering models is measured by tens of thousands copies. The structure of transistors with the use of metallic lock and materials with the high  dielectric constant value, worked out in Llano, will prove useful also with the introduction of 28 nm technology.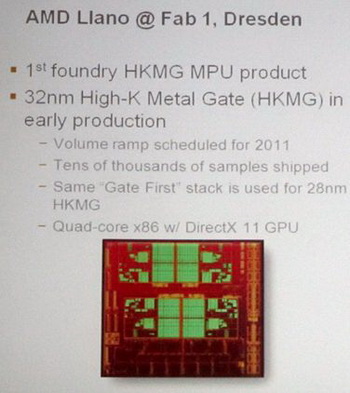 In comparison with 40 nm technology, after transfer to the 28 nm standards globalfoundries company was able  to increase by 100% the density of transistors arrangement, to increase by 50% transistor switching stat  rate , and on to  decrease necessary for this expenditures electric power. Additional optimization in the structure of transistors allow to win back still 10-20% of crystal area.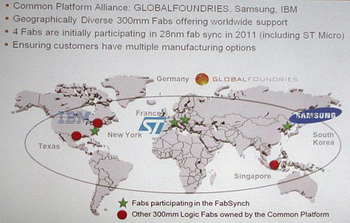 Globalfoundries masters 28 nm technology in the partnership with other producers: ST micro, IBM and Samsung.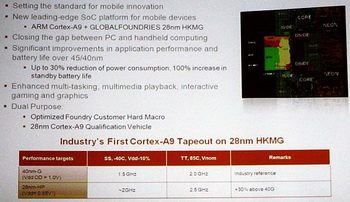 It is expected that the models of 28 nm  microcircuits globalfoundries will be dispatched to its clients already in the following block. To the end of 2012 at its newest American factory fab 8 globalfoundries company expect to begin the introduction of lithograph with the ultrahard ultraviolet radiation (EUV), mass production level will be scaled to 2014-2015.


Related Products :