The Participating in the contest, Christmas and New Year, organized by Gigabyte, enthusiastic broke three world records for overclocking platform Llano.
Enthusiast notes that available to him copy of Llano processor tolerates extreme overclocking memory modules based on chips Hynix H9C CFR.  The test system was assembled on base of motherboard Gigabyte GA-A75-UD4H, processor AMD A8-3870K Black Edition,  old graphics accelerator card 3dfx Voodoo3 2000 PCI.  Tests included RAM modules GeIL Evo Corsa GOC316GB2400C11QC, G.Skill Ares F3-2133C9Q-16GAB and G.Skill RipjawsZ F3-19200CL9Q-16GBZHD, which are based on those already mentioned chips Hynix.
Memory multiplier was set at 9.33x, it means that the Hyper Transport bus speed  is equal to 200 MHz, memory clock can be up to 1866 MHz (DDR3-3732 mode).  To work at a such high frequency it is necessary to increase memory voltage to 1.9-2.0 volts and extreme cooling.
Thus, the result for module G.Skill Ares 4GB reached 1757.7 MHz (DDR3-3515), the default frequency of this module is equal to 1066 MHz (DDR3-2133, CL9).  GeIL Evo Corsa overclocked to 1803.3 MHz (DDR3-3606), marked by default frequency 1200 MHz (DDR3-2400, CL11).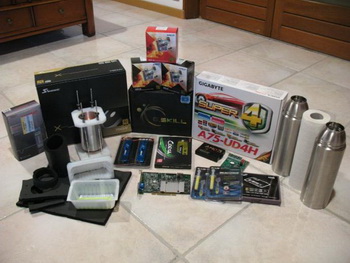 Set Memory G.Skill RipjawsZ was selected for extreme experiments, and this memory allowed to update a few world records:
work in dual channel mode at frequency 1712.9 MHz (DDR3-3426, a record for CL10);

work in dual channel mode at frequency 1812.1 MHz (DDR3-3624, record for CL11);

work in single channel mode at frequency 1783.2 MHz (DDR3-3566, CL10, record , however, belongs to the team Lab501);

work in single channel mode at frequency 1868.3 MHz(DDR3-3736, CL11), which is an absolute record for RAM overclocking .

Related Products :