Talking about new achievements in the extreme overclocking of RAM modules, we are already accustomed to talking about the new memory  type - DDR4, which, with the release of AMD Ryzen processors, is intended to get more widespread, and also to designate new limits of overclocking.  Nevertheless, there are enthusiasts ready to squeeze the last drops from the memory of past generations.  The British overclocker Noxinite , for example, "rolled back" in its experiments, not just one, but immediately for two generations of memory standards, and set a new record - the only 1 GB Corsair memory module made it work in DDR2-1820 mode with timings 6-15 -15-34.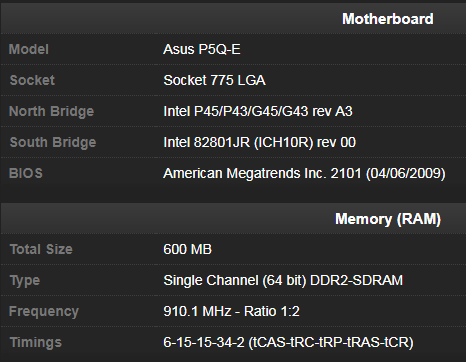 The most unusual in this experiment is the method of memory cooling  .  The enthusiast used the EK Water Blocks tank for memory modules to create a solution for using the phase transition system.  By the way, the author expects to apply liquid nitrogen in the future, so the result of overclocking may not be final.
The memory module was accompanied by the motherboard Asus P5Q-E with a LGA 775 connector and a compatible Core 2 Duo E8500 processor Wolfdale generation.
The processor, by the way, was limited to an unattended system of liquid cooling.  The author of the experiment also promises to work on improving the heat spreaders that come into contact with the memory module.


Related Products :