In the first quarter  this year, the semiconductor market was sluggish.  But in the second and third quarter demand for chips and other discrete components was high enough to for the year, this segment's high-tech industry showed annual growth.  Year has not ended yet, but in the fourth quarter bursts in this segment usually does not happen.  Looking ahead, we note that this year was marked by memory manufacturers.  Smartphones and tablets boosted demand for DRAM and NAND-flash memory chips, which resulted in more than a significant increase in  producers revenue.  
Far ahead of competitors in the semiconductor market continues to lead Intel company .  However, as can be seen from the table above, it is not all right.  Compared with 2012, in 2013 Intel  revenue fall by 2.2% - up to $ 48 billion, or up to 15.2% market share.  This trend is not only the current year.  In 2011, the Company held 16.5% of the semiconductor market.  
Returning to the memory manufacturers, we note that they represented by  SK Hynix and Micron Technology companies, demonstrated the most significant revenue growth: South Korean brand for the year increased revenue by 43.2% and Micron showing an increase of annual sales by as much as 70.8%.  
Changing the balance in favor of undersupply enabled memory manufacturers almost two times to raise the selling price of the chip.  
In second place the 12th straight year Samsung Electronics company .  It occupies 9.4% of the semiconductor market and shows a slight increase in annual revenue.  . Qualcomm and MediaTek company move well ahead.  Their personal development indexes more than the industry average of 35% and 28%, respectively, while Samsung is negative.  Reasons for this, according to the company Gartner, rooted in three factors: first, the report did not include revenue from Samsung work under a contract with Apple , and secondly, Samsung  release memory for smartphones and tablets, the prices of which are not growing as rapidly as in computer memory, and thirdly, the consumption of branded SoC Exynos declined in favor of similar products Qualcomm, as well as increased use of modems from this company.
Qualcomm Company, incidentally, confidently entrenched in third place with a market share of 5.5% in 2013 and annual growth at 31.1%.  MediaTek company was not included in the top ten brands in the semiconductor market, but it is growing at a rate similar to the rate of Qualcomm and already holds 14 position in the market.  IHS data are slightly different from Gartner numbers , but they allow  to see an expanded list of brands, including the status of  AMD and NVIDIA companies.  AMD is firmly perched on the 12th position, although the beginning of deliveries APU for new Sony and Microsoft consoles gives it a chance to improve their market position, and NVIDIA is gradually losing ground.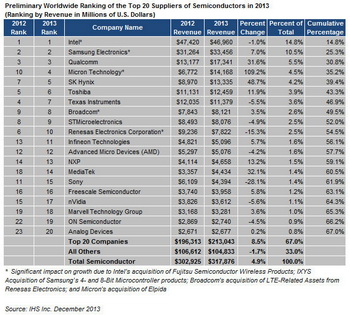 In general, the semiconductor market in 2013 is expected to reach $ 315.4 billion, which corresponds to an annual increase of 5.2%.


Related Products :