In line with expectations at Mobile Congress in Barcelona, Intel introduced a single-chip processors, known to us under the code name SoFIA.  According to the new designations for Intel processors class Atom, Jr. received news index of the new brand: Atom x3.  Altogether there are three models: Atom x3-C3130 (SoFIA 3G), Atom x3-C3230RK (SoFIA 3G-R) and Atom x3-C3440 (SoFIA LTE).  Processor Atom x3-C3130 is ready for delivery in the near future, and the other two models will be released closer to the middle of this year.  All three solutions are designed for the production of tablets and smartphones at the lowest possible price.  The desire to release a device based on SoFIA expressed 20 companies, including ASUS and Jolla.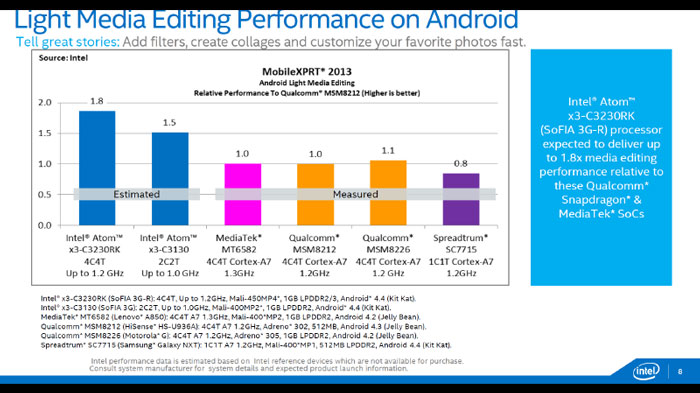 In the table above you can see the possibilities of each of the three reporting solutions.  Computing cores in each case -  x86-based core architecture Intel Silvermont, but the graphics -  video core, ARM.  Note Intel previously tended to video core from Imagination company .  Collaboration with Intel will significantly strengthen ARM market share , and Intel itself will allow to bridge for rapprochement with Apple.  However, SoFIA manufactured using 28-nm lines TSMC, so that Intel still remains outside Apple interests sphere  .  
Now then, with regard to the degree of integration.  The structure of SoC SoFIA entered the digital broadband modem 2G / 3G or LTE 5 Cat, if we talk about SoFIA LTE (Atom x3-C3440).  The rest of the wireless interfaces - Wi-Fi, Bluetooth, GPS - implemented or assembly of A-Gold 620, or a set of discrete solutions Intel Wireless-AC 8x70, Intel Wireless-GNSS 2x00 and Intel Wireless-NFC 4000. Discrete solutions complement SoC SoFIA LTE (Atom x3-C3440), but can also complement other SoC, if this will be a necessity.  For example Wireless-AC 8x70 will help organize communication using standard Wi-Fi 802.11ac.  The company also presented a discrete Intel XMM 7360 modem with support for LTE Advanced Category 10 and downlink speeds of up to 450 Mbit / s.  As SoFIA LTE, Intel XMM 7360 modem will be released in the second half of the year.  Modem and discrete components are manufactured using Intel 28-nm process technology.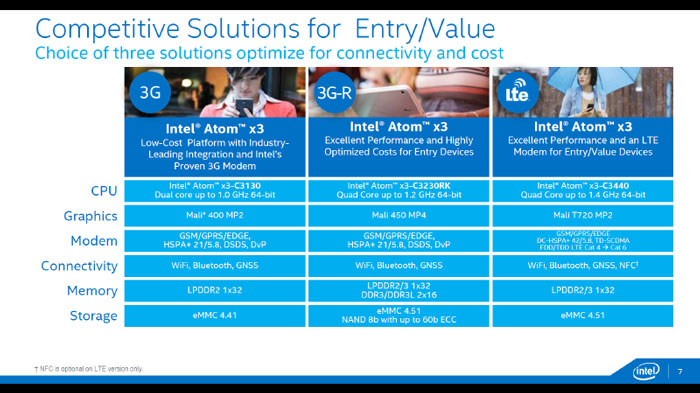 Related Products :