At meeting with representatives of industry analysts, AMD this week confirmed the intention of the company to present graphical solutions Polaris generation to the middle of this year, as well as to bring to market their successors in 2017.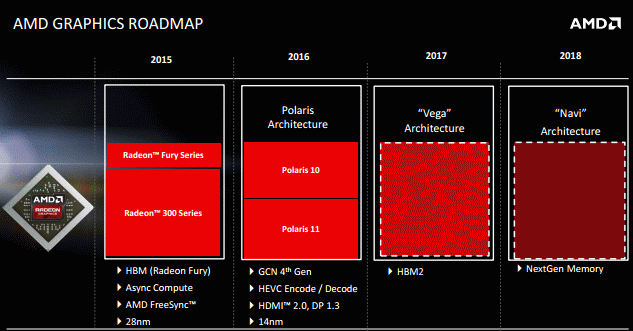 The same slide has allowed  to understand that nothing is more productive compared to Polaris 10 (Ellesmere) this year , except for any kind of dual video cards based on Fiji.  Public opinion ideologues AMD has long been prepared to recognize the fact that to increase its market share in the segment of the graphics company is going at the expense of mid-range graphics cards.  Even speaking about the expansion in the segment of virtual reality technology, AMD calls the price limits from $ 329 to $ 650:
It would seem that here  you can think about the pricing policy in respect to Polaris, but the next slide presentation allows  to understand that the existing graphics solutions AMD fall in this price range, while allowing  to work with virtual reality. According to AMD representatives  , the company's ability to graphics processors to perform the so-called "asynchronous computing" allows you to gain an advantage when working with virtual reality.
At the technology conference JPMorgan AMD representatives could not dodge the question about the timing of appearance of a direct competitor to the GeForce GTX 1080. The lead of personnel service company Ruth Cotter reluctantly acknowledged that the "ultra-enthusiasts" will have to wait until 2017 if they want to buy AMD's flagship graphics solution new generation.  Immediately it was added that the time between the occurrence of Polaris and Vega is very small, and this is a significant achievement for the company.

Head of Department of "human resources" AMD was forced to make excuses, saying that the company never forgets about the needs of ultra-enthusiasts, just now the priorities are somewhat different.

Chief Engineer AMD Peypermaster Mark did not talk about the timing of GDDR5X memory introduction  in relation to the products of this brand.  He only modestly explained that the graphics memory is improving very quickly, and change the memory generations - a process  natural and inevitable.  So far AMD  is proud to be the first mastered the production of products with memory type HBM.  Let us not forget that in 2017 Vega graphics solutions will bring support for HBM second generation memory type.


Related Products :