The demand for gaming video cards in recent years has allowed NVIDIA to significantly increase revenue.  At the investor event held this month, the company demonstrated the dynamics of revenue changes in key market segments in three years, and visual slides allow a wide range of readers to more easily and quickly understand all the current trends.
Let's start with the fact that the total revenue of NVIDIA in the last three years grew by an average of 20% per year, and so-called "growth platforms" ensured an increase in revenue by 35% per year on average.  These include segments of gaming solutions, products for data centers, professional graphics accelerators and automotive electronics.  Ready-made PCs and technology licensing, on the contrary, demonstrated a negative dynamics of changes in NVIDIA revenue.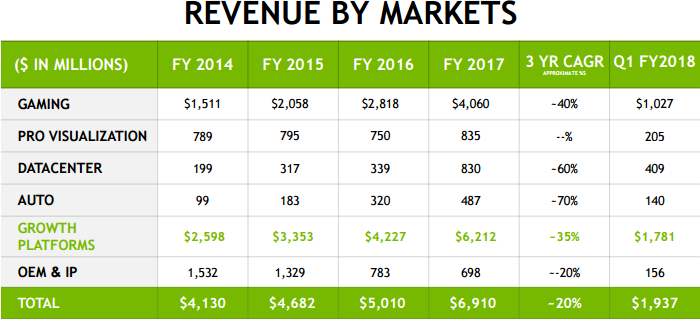 Most actively grew revenue in the segment of gaming solutions - by 40% per year.  The segment of professional visualization tools was characterized by stable indicators, increasing revenue by 2% per year.  Data centers have been "swaying" for a long time, but in the last year NVIDIA's revenue in this direction increased by 145%, which provided an average annual growth rate of 60% for a three-year period.  The company's revenue in the automotive segment is growing at a good rate - by 70% annually on average.
The "IP & OEM" segment shows a 20% decrease in revenue per year on average, NVIDIA executives already described the reasons for this trend at quarterly reporting conferences.  In the segment of ready-made PCs for corporate use, the ball is ruled by integrated graphics solutions, excluding the market for workstations with Quadro professional accelerators, and the flow of license fees from Intel has recently dried up due to the expiration of the contract.
"Growth platforms" push up and the company's profit rate.  It's interesting that Tegra processors do not allow NVIDIA to earn more if we talk about their use in consumer devices.  But automotive electronics is actively armed with these processors.


Related Products :