Detection of weaknesses in serial processors and their further elimination is a common phenomenon for the life cycle of Intel and AMD products.  The list of defects is measured in hundreds of pieces, they may not prove themselves for years, and a significant part of them is eliminated by updating the microcode or software.  .  The processors of the specified families that support Hyper-Threading represent a threat to the stability of the system operation and data safety.  A certain sequence of commands may cause the computer to reboot or the system may hang.

The authors of the publication emphasize that the problem concerns not only operating systems based on Linux, but also any others.  Some motherboard manufacturers have already begun to implement the corresponding fixes in the new BIOS versions, but Intel only published information about this vulnerability in April and May, so the user can not always count on the agility of Intel's partners.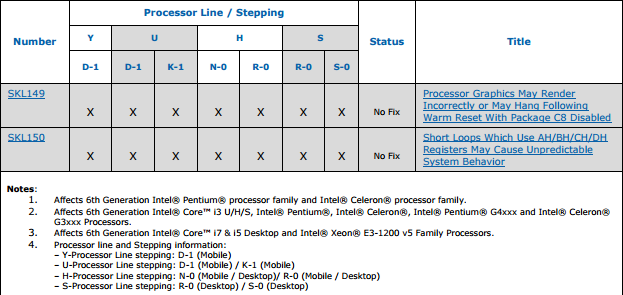 In the case of Skylake processors for desktop systems, all existing steppings are affected by the problem.  By the way, mobile and server processors of this generation also suffer from this defect.  Intel recognizes that it is possible to solve the problem by updating the microcode.

Processors Kaby Lake similar defect is also not deprived, but if we are talking about the latest models of the family Kaby Lake-X stepping B0, then they are "beyond suspicion."
If unpredictable behavior of the system is based on defective processors, you can get rid of problems by simply disconnecting Hyper-Threading through the appropriate BIOS / UEFI menu on the motherboard.  Now, the Kaby Lake-X processors in the LGA 2066 version have an added advantage - they were out of this problem.


Related Products :