AMD is preparing an updated platform Sabine, which will appear this year and will include several new mobile processors Llano models.  List of new processors are follows: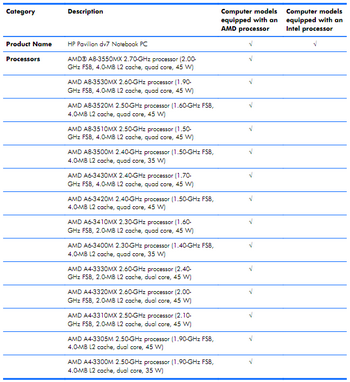 A common feature of all the new models will be an indicator of heat, equal to 45 watts, which contradicts earlier information on the chip A4-3320M, A6-3420M and A6-3520M.  The document also refers to the 4 MB second level cache  with A4-3300M and A4-3305M, which is also true for A4-3300M (and, apparently, for A4-3305M, too).
The slowest new products will be A4-3305M with a clock frequency of 1.9 GHz @2.5 Turbo Core.  The chip has no obvious differences from the model A4-3300M, but it is possible that the processor will receive a larger L2 cache or better graphical component.
Six other processors will come to replace the six models of the first wave mobile Llano.  Thus, the model A4-3320M and A4-3330MX will replace A4-3300M processors and A4-3310MX, they will have two cores and 2 MB second level cache.  A6-3400M and A6-3410MX APU will be replaced by A6-3420M and A6-3430MX, and the place of A8-3500M  and A8-3530MX processor will take A8-3520M and A8-3550MX.  
| Model | Number of Cores | Frequency @ Turbo Core | L2 cache | TDP |
| --- | --- | --- | --- | --- |
| A4-3305M | 2 | 1.9 GHz @2.5 | 2 MB | 45 watts |
| A4-3320M | 2 | 2.0 GHz @2.6 | 2 MB | 45 watts |
| A4-3330MX | 2 | 2.4 GHz @2.6 | 2 MB | 45 watts |
| A6-3420M | 4 | 1.5 GHz @2.4 | 4 MB | 45 watts |
| A6-3430MX | 4 | 1.7 GHz @2.4 | 4 MB | 45 watts |
| A8-3520M | 4 | 1.6 GHz @2.5 | 4 MB | 45 watts |
| A8-3550MX | 4 | 2.0 GHz @2.7 | 4 MB | 45 watts |
 


Related Products :