The platform Haswell-E will be announced in the second half of 2013 -  Ivy Bridge-E processors in LGA 2011.  It is intended for enthusiasts and overclockers, who will not have restrictions for overclocking.    But in this case, Intel limited to minor improvements.  For example, the number of cores will be completely frozen at number 6, so it will go down in 2014.  The first 8-core desktop processors, will appear in the second half of 2014 as a model for the LGA 2011 platform Haswell-E.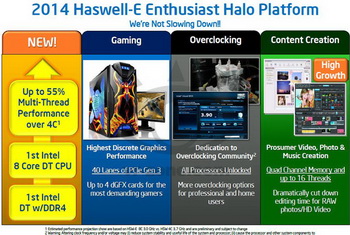 The desire to hold on the announcement of 8-core solutions until the second half of 2014 relates to the possible Intel's plans to change the principles of the so-called "tick-tock" when every year alternately a change of process technology and microarchitecture.  
Models of Haswell-E with 6 and 8 cores and Hyper Threading Technology will provide a total of 16 computing threads simultaneously.  In fact, the packages for processing video and digital images have learned to organize multi-threaded workload, speeding out the finished product.  Maximum TDP of  Haswell-E models falls in the range of 130-140 watts.  Process technology - second generation 22nm HKMG.  Cache memory L3 - up to 20 MB.
In a pair with processors Haswell-E bridge will be created Wellsburg (chipset X99).  The biggest change in the new chipset will be support for memory type DDR4.  LGA 2011 model 2014 will be the first that will support a new memory type.  It is expected that the minimum rate DDR4 will be 2133 MHz.  In addition, the controller X99 will promise to support 6 ports USB 3.0, up to 8 ports USB 2.0, up to 10 SATA 6 Gb / s and TDP 6,5 watts.
Four-channel controller with support for DDR4 memory running at a higher frequency will provide a 50% increase in memory bandwidth.  Overall growth performance Haswell-E is estimated at 55% compared to the company's quad-core running at a higher frequency (3 GHz for Haswell-E vs. 3.7 GHz for a certain 4-core processor Intel).  
Going back to memory, note that DDR4 will have 288 contacts.  Initially it was assumed that the modules are 284-pin.  In the final version of DDR4 modules will receive an additional group that is responsible for operating modes NVDIMM (hybrid memory flash chip on the bar).  In practice, there will be a 284-pin modules, and 288-pin.  
As for the form factor processors Haswell-E  the Number of contacts has changed, just like key ILM (Independent Loading Mechanism) - planting mechanism socket.  The socket was called LGA 2011-3.