LSI-SandForce officially presented the solution, known as SF3700.
The new controller has the support of the same technology as its predecessor, including, for example, DuraWrite and RAISE, but SF3700 was designed from scratch.  Controllers Series SF-2200 were based on the architecture of their predecessors, SF-1200.  SF3700 is a complete rejection of previous work and is more flexible and promising to use.
The controller has a modular structure means that developers without undue effort SF3700 can give support for new types of solid state memory or interfaces.  This is particularly important given that the industry is at the transition between SATA and PCI Express.  The controller includes a nine channel memory NAND, support chips such as ONFI and Toggle-Mode, all data on the operations of the memory stored in the internal memory SRAM.  SF3700 support the SATA interface with a capacity of 6 Gb / s PCI Express 2.0 (4 lines).  The SATA declared maximum sequential read speed   550 MB / s sequential write - 502 MB / s Random Read - 94,000 IOPS and random writes - 46 thousand IOPS, using PCI Express speed sequential read and write increased to 1,800 MB / s Random Read - up to 150,000 IOPS, random write - up to 81 thousand IOPS.
LSI-SandForce offers four versions of the controllers for different classes.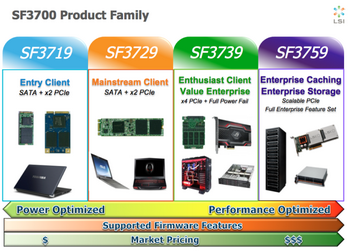 SF3700 controllers have their own baggage of proprietary technologies.  Improved mechanism DuraWrite, which minimizes the number of writes to the NAND memory cell and thereby prevents premature wear, two-level protection against data loss and function RAISE error correction SHIELD.  The algorithms are able to adapt the latter to provide the best balance between performance and reliability.


Related Products :