In addition to the fan cooled version of the AMD Radeon Vega Frontier Edition, the company introduced a version of the adapter with a liquid cooling system (the official name is the same) and a version with SSD drives on board (model Radeon Pro Vega SSG).  Adapter AMD Radeon Vega Frontier Edition with a liquid cooling system has the same design as its fellow with a fan.  The color of the casing and the color of the logo are different in the corner of the video card.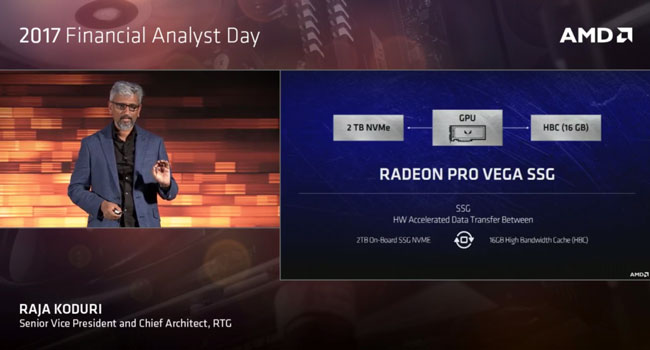 With the advent of the AMD Radeon Vega Frontier Edition with liquid cooling, the developer becomes the solution provider of the entire spectrum.  In addition to models with active air and liquid cooling, we recall that AMD prepared a model Radeon Instinct MI25 with passive air cooling for shelving computers with placement in server racks.  The specifications of all three solutions, based on the same thermal package (300 W) and peak performance (13 teraflops for FP32), are identical.  Consequently, this is 4096 stream processors at a frequency just above 1550 MHz and 16 GB of HBM2 memory with a bandwidth of 480 GB / s.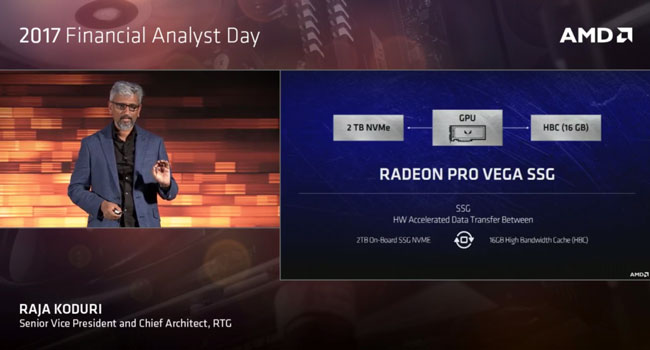 By the way, about why AMD Radeon Vega Frontier Edition is compared with NVIDIA TITAN Xp.  As with the competitor, AMD adapter is deprived of a significant part of blocks for processing double-precision operations (FP64).  Both of them are aimed at the same tasks: deep machine learning and visualization, including the creation of VR-content.  In operations with half-precision,  AMD novelty shows up to 25 teraflops, and NVIDIA TITAN Xp shows around 20 teraflops in the region.  For FP 32, the difference is less and equal, respectively, 12.5 teraflops and 12 teraflops.  True, the peak consumption of the AMD novelty reaches 300 W, while the peak consumption of NVIDIA TITAN Xp is up to 250 W.  So, if there is not a parity, then there is some advantage of developing NVIDIA.
Also, AMD presented a version of the video card with a built-in SSD-adapter on the adapter card.  More precisely, reported the presence of such without a picture and without disclosing the specifications.  Earlier, recall, based on the Fiji GPU, the AMD Radeon Pro SSG adapter was presented for $ 10,000. The solution was a video card with two M.2 slots, each of which was equipped with 512 GB SSD from Samsung.  The Radeon Pro Vega SSG adapter will receive one 2-TB SSD with NVMe support.

The solution is aimed at processing video with a resolution of 8K.  It is reported that the novelty makes it possible to raise the playback speed of frames with a resolution of 8K from 17 to 90+ frames per second.  Note, since AMD Vega architecture uses HBM2 memory as a capacitive buffer for communication with peripheral memory, the solution in the form of Radeon Pro Vega SSG turns out to be very interesting.  More details about AMD innovations should be expected in a couple of weeks from the Computex 2017 fields.


Related Products :