Valve company  publishes monthly statistics, which reflects information about the configuration of users computers of its service for the digital distribution of computer games and Steam programs.  Of course, this statistics does not reflect the full picture, but some trends on it can be traced.
So, the most used operating system is Windows 10 64-bit, the share of which is 50.33%.  In second place is 64-bit Windows 7 with 32.05%.  The share of various versions of the operating system macOS is 2.95%, and various Linux-systems - only 0.72%.
The percentage of AMD processors is increasing, Steam statistics claim the opposite.  So, if in February the share of AMD processors was 21.89%, but now it was reduced to 19.01%.  In general, the most popular are 4-core processors that account for 52.06%, while the second most popular are 2-core processors with a share of 42.23%.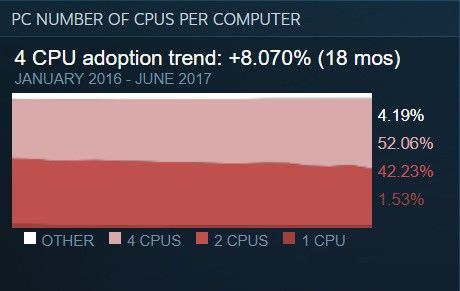 The share of AMD video cards is also decreasing, according to Steam.  The share of AMD fell from 26.2% in January 2016 to 20.5% in June 2017.  It looks like AMD video cards are much more popular in non-gaming areas.  The most popular video card among Steam users is GeForce GTX 1060 with a share of 6.29%.


Related Products :