There was rumors about a new SSD SR1020 2TB volume, which ADATA company must submit  at Computex 2014. Though novelty focused primarily on corporate consumer, its example can be seen quite close future of the retail market.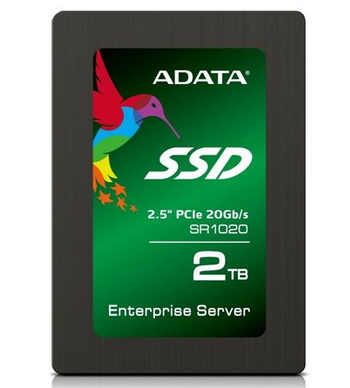 Note that when submitting information about this device, many resources considerably confused in principle,  to be expected, since  This drive has a new interface SATA Express, rather than the usual SATA3 or SAS.
In particular, many confusing the fact that the label contains the data rate of 20 Gbit / s and PCIe.  But in fact, SATA Express (SATAe) is a modified  interface PCI Express.  Just open specification SATA 3.2, published in August 2013 to see that in the case of PCI-E 3.0 bandwidth port SATAe reach the desired 20 Gb / s (although, given the redundant coding algorithms used, the amount of transferred data is less useful this figures).  
Volume 2 TB is also quite big already.  But, given the fact that in the range ADATA there is only one line of server drives SX1000L, which are based on many  LSI SandForce SF-2281, and the drives themselves differ only on the user's high-volume backup area before us is hardly truly server like product.
Mass retail controllers class that ADATA operates in its products, support arrays flash memory of not more than 1 terabyte.  Therefore, from a technical point of view, the novelty is likely identical to the notorious ASUS Hyper Express, a sample of which ASUS demonstrated at the event ASUS TechDay # 1 .  
In the case of the form factor 2.5 "board with soldered hiding   controller ASMedia ASM1062R, uniting two mSATA-drive in RAID-array and connect it to the interface SATAe.
Similarly, ADATA SR1020 can encompass a couple SSD compact form factor mSATA, with a volume of 1 TB each.


Related Products :