Announcing the availability of ready-made computers based on desktop versions of hybrid processors generation Bristol Ridge, AMD company explained that the first time such systems will be produced exclusively Lenovo and HP.  Both families Summit Ridge and Bristol Ridge have different architectures, but can be mounted in the same motherboard.  Systems based on the hybrid processor AMD A12-9800 generation Bristol Ridge already seen in the company's range of products CSL.  If you look at the specs, you'll find mention of the motherboard Asus A320M-C based on  AMD A320.  
First of all, the board manufacturer warns that previous generations Core AMD Socket AM4 in the connector will fail to install.  
On the rear panel of the motherboard you can find the serial port - a rare option for our day.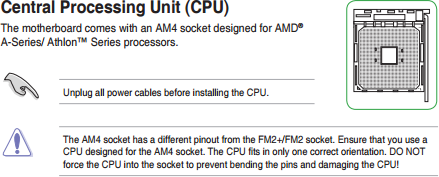 The theoretical maximum of USB ports supported - twelve pieces, half of which goes to the rear panel, but only four of them work in USB 3.0 mode.  The motherboard has dimensions of 244 x 236 mm, corresponding to the form factor microATX.  In addition to the two slots for memory modules such as DDR4-2133, the board can boast the presence of a single slot PCI Express x16 (3.0), two slots PCI Express x1 (2.0) and one PCI slot.


Related Products :