On Thursday, Intel company shared the plans for the coming year and for the next five years.  The key moment was the message about the change of orientation with PC processors on solutions for data processing centers.  In 2021, Intel is confident at , the annual revenue from data center solutions will increase to $ 65 billion, while sales of PCs in all its manifestations is no more than $ 30 ppb is obvious that in the future every effort should be directed to the development of server solutions .
At the same time, the abandonment of client platforms from both the focus of attention does not mean that they will be pushed into a corner and forgotten.  Intel has noted the high demand for expensive line of processors Core i7.  ESports and gaming interest in the latest individual users for the first time in the history of the company has led to the highest share of  Core i7 models sales.  The development of virtual reality alone will spur demand for performance processors.  According to Intel estimates, for example, the transition from Core i3 to Core i7 improves VR-platform productivity by 36%.  This has stimulated interest in virtual reality games to buy more expensive and productive platform.  An interesting approach.  Instead of basic solutions company encourages to buy more expensive processors.
With regard to development.  Intel told on the meeting about the expected performance of the first in its history  10-nm processors - making the 8th generation codenamed Cannonlake.  They will appear in the second half of this year and will be faster Kaby Lake processors by as much as 15%.  Well, you understand, for the same 15%, which Kaby Lake skylake faster.  In fact, Intel has confirmed that Cannonlake little differ from the actual company's processor.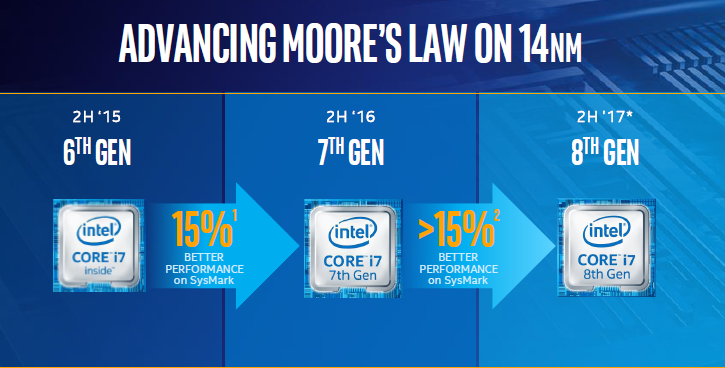 Actually, Cannonlake will feature solutions for convertible notebooks and tablets.  Desktop Intel processors to the end of 2017 and beginning of 2018 will remain 14-nm -  model codenamed Coffee Lake.  Perhaps they, too, will pass, as the 8th generation of Intel processors.  In general, it is unlikely we can expect a lot from both cannonlake, and from Coffee Lake.  


Related Products :