The first 45- nm processors from advanced micro devices company (AMD), which have four core ( code name shanghai ), is already available at the disposal of resellers.
Those two models are available : opteron 837X and 838X . Thus, currently , in one online stores (PC connection) the opteron QC (quad-core) 8384 is proposed for $2509. Buy.com request for this model $2240.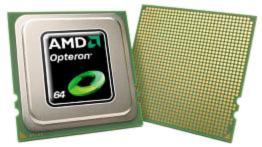 Opteron 8384 operates at 2,7 GHz frequency and consumes 75 W of energy, which is relatively small for 4- core CPU. Opteron 8385 will cost about the same, it has the same frequency, but it works with the faster FSB (HyperTransport 3).
Remaining processors:
Opteron 8382 : 2,6 GHz, price $2177
Opteron 8380 : 2,5 GHz, price $1768
Opteron 8378 : 2,4 GHz, price $1360
Note that these prices are higher than the wholesale, which AMD proposes to its partners, (in the parties from 1000 pieces ).
The series opteron 230X on shanghai core :
Opteron 2382 : 2,6 GHz, price $1019
Opteron 2380 : 2,5 GHz, price $814
The official announcement is expected only in the middle of the following month. Probably, AMD do not want to hurry the events.

According to chief manager of AMD server subdivision , (Pat patla), the production lines are occupied precisely with the processors shanghai for approximately one month.

The release of finished solutions on base of those CPUs is expected already in this block.

Let us recall, that the performance of new Opteron shanghai will be higher by 20% in comparison with Barcelona.


Related Products :