Intel perhaps should recognize that the announcement plan of new generation processors was not on their control in all stages. On sale 32 nm clarkdale processors entered before the official announcement, at the end of last year. The same can be said also for motherboards on base of chipset Intel h55 and H57. In Third January company permitted reviewers to publish data about the speed of clarkdale processors, and yesterday took place the last  announcement stage - 32 nm Intel processors westmere generation were prescribed on the site of the company and in the official Price- list.
We start from the new device in the desktop segment. They are characterized by the quantity of supported functions, the maximum memory operation mode , sometimes - with the graphic core frequency .
In this table did not fall only the processor Pentium g9650 (2.8 GHz), which has the modest graphic core frequency (533 MHz), and it is satisfied by the price $87. All clarkdale processors  , intended for retail sale, are based on C2 stepping. This allows to design for a good overclocking potential, which was already noted in engineering models. Let us transfer markings of desktop clarkdale processors :
Core i 5-670 (3.46 GHz) - > SLBLT;
Core i 5-660 (3.33 GHz) - > SLBLV;
Core i 5-661 (3.33 GHz) - > SLBNE;
Core i 5-650 (3.2 GHz) - > SLBLK;
Core i 3-540 (3.06 GHz) - > SLBMQ;
Core i 5-530 (2.93 GHz) - > SLBLR;
Pentium g9650 (2.8 GHz) - > SLBMS.
In Intel Price- list also appeared 45 nm atom processors on  pineview core. They are substantially more expensive than predecessors, from one side, but the north bridge is already integrated in the processor, from other sides, and this price policy is justified to a certain degree .

Intel simultaneously published prices and characteristics of arrandale mobile processors  , which are the analogs of desktop Clarkdale:
Furthermore, on the company site appeared the list of nehalem generation processors , intended for  built in technology segment - they are characterized by the modest energy consumption: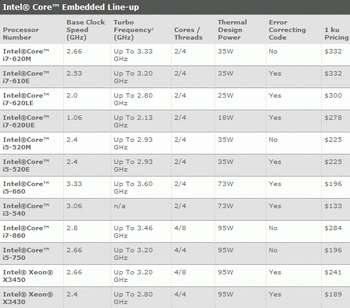 Related Products :