The new revisions of processor core always enjoy increased demand from overclockers. Even if new stepping does not bring a essential improvement in the overclocking potential,  new stepping remain better . The Processor core i 5 -655K (3.2 GHz) appeared in this year with the free multiplier and was based on stepping K0, whereas the previous models clarkdale were based on stepping C2.
The elder models clarkdale with the limited multiplier , which appeared in recent weeks, also had time to pass to stepping K0, and here from 16 October will begin the deliveries of processors stepping K0 following models: Core i 5-650 (3.2 GHz), Core i 3-540 (3.06 GHz) and Core i 3-530 (2.93 GHz).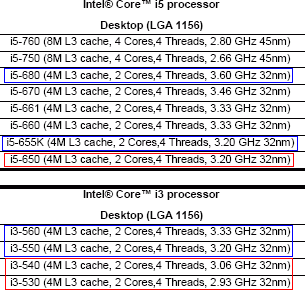 In the Price- list by dark-blue are encircled clarkdale models  , which are already based on stepping K0, red are encircled models updated from October. New processors marking:
Core i 5-650: SLBLK (C2) - > SLBTJ (K0);
Core i 3-540: SLBMQ (C2) - > SLBTD (K0);
Core i 3-530: SLBLR (C2) - > SLBX7 (K0).
Stepping C2 will be in parallel supplied until reserves are wasted.


Related Products :