AMD yesterday presented two new mobile platforms,  earlier known to us under Danube and Nile. The first is oriented to the mass full-scale notebook segment, it introduces four core mobile processors and support to DDR 3-1066/1333 memory. The second must strengthen  AMD positions in the segment of hyperfine notebook. The case thickness  will not in many instances exceed 25 mm, but the screen diagonal will lie within the limits from 11 to 13.3 inches.
In principle, behind the screen of 2010 AMD mainstream platform we have the following components: mobile integrated chipset AMD M880G with the graphic system radeon HD 4200, which supports DirectX 10.1, discrete graphical solutions series mobility radeon HD 5xxx, and also 45 nm processors with DDR- 3 support :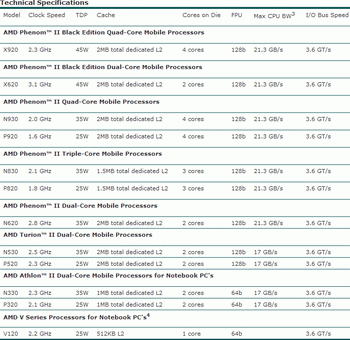 The processors phenom II support DDR 3-1333 memory, for Turion  II and Athlon II  the support of DDR 3-1066 is provided. The processors athlon II and single core model v120 also have the lower word length of floating-point calculations block - 64 bits instead of 128 bits for Phenom II and Turion II.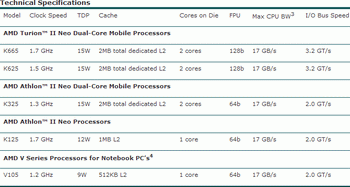 The platform nile (The 2010 AMD ultrathin platform) uses one- and dual core processors with the TDP level not more than 15 W, which support DDR 3-1066 memory. Graphic system can be both integrated (Radeon HD 4200) and discrete (Mobility  radeon HD 5400). In the latter case is ensured the support of directX 11, in the first - only DirectX 10.1. Notebook in this class can autonomously work up to eight hours without recharging. AMD partners already developed 26 notebook models on base of this platform. With the aid of two new mobile platforms AMD expects to increase its market share in this segment.


Related Products :