About The intention to release video card Asus GeForce GTX 980 Ti series Poseidon, we have learned in the middle of summer.  Its special feature is the presence of a hybrid graphics card cooling system DirectCU H2O, allowing it to operate both as part of the liquid cooling system, and without it, being content with the evaporative cooler chamber and a pair of fans.  Using the built-in water-block only enhances cooling performance.
Now the description of the video card GeForce GTX 980 Poseidon Ti Platinum can be found at Asus.  The device's unique cooling system is shown in the illustration below: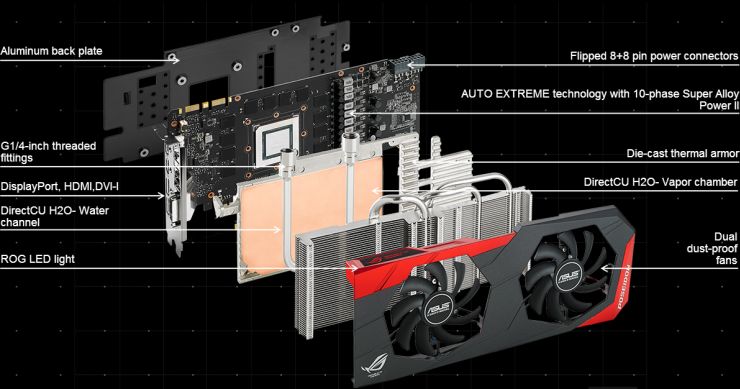 Through the base of the radiator to the evaporator chamber extends a U-shaped tube.  Fittings allow screw fittings sizes 1/2 ", 3/8" and 1/4 ". The use of liquid cooling allow  to reduce the GPU temperature by 27-30 degrees Celsius.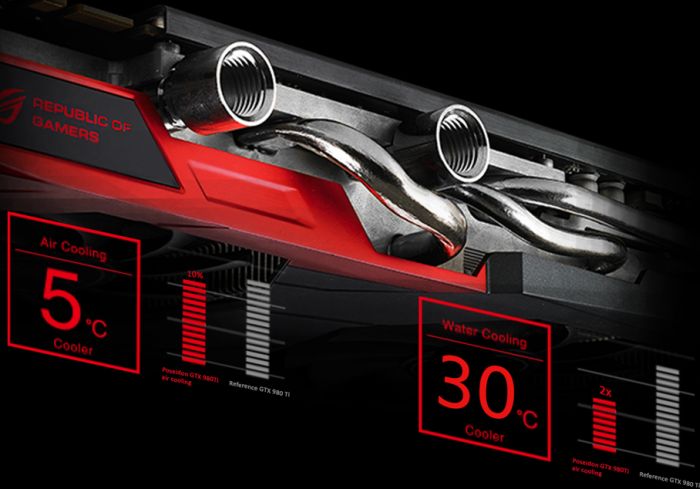 Installation of the elements on the printed circuit board is made on an automatic line AUTO-EXTREME. The 10 phases power system  uses two eight connectors.  The manufacturer claims that the graphics card can consume up to 375 watts.  The casing of the cooling system is equipped with red lighting, on the back side of the card is provided reinforcing plate.  The cooling fans prevent settling  dust on them.  The card is equipped with 6 GB of GDDR5 memory and 384-bit bus, the default frequencies are 1114/1203/7010 MHz, provides automatic overclocking to 1228 MHz. Overall dimensions reaches 287 x 137  x 40.6 mm.

 


Related Products :